New 2017 Maruti Dzire: Everything you need to know
Maruti Suzuki has launched the new generation of their bestselling sedan, the Dzire, with a price tag beginning from Rs 5.45 lakh, ex-showroom, Delhi. This is the third update to their sub-four-metre compact sedan and is positioned between the Swift hatchback and the Baleno premium hatch, just like its predecessor. 
2017 Maruti Suzuki Dzire prices
The Dzire is pretty much the superstar of the Maruti line-up with over 13.8 lakh units sold and has been the only sedan in the top 5 selling cars. Thus Maruti could have basically just done a facelift but instead they went all out and brought in a new gen. 

This is first look of the new Dzire  and it looks premium. Lets see why it is being touted as the new crown jewel in the Maruti range.

New 2017 Maruti Dzire First Review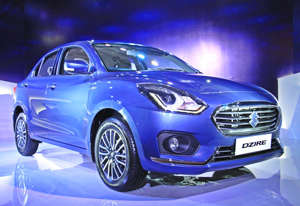 © MotorTrend India The new look being based on the new gen Swift (coming next year) is bolder and more aggressive.
Since its launch in 2008, the DZire, or sold as Swift DZire in its earlier model range, will be available with safety features as standard, a new design language as well as new convenience list. It's available in Lxi, Vxi, Vxi AGS, Zxi, Zxi AGS, Zxi+, Zxi +AGS, Ldi, Vdi, Vdi AGS, Zdi, Zdi AGS, Zdi+ and Zdi + AGS.
New Maruti DZire variants explained, which one would suit you best?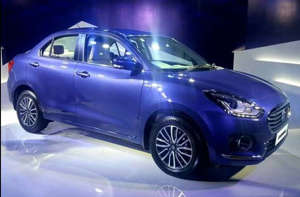 New Dzire: Maruti's superstar Sedan
New Dzire: Maruti's superstar Sedan
Maruti Suzuki Dzire's launch happened roughly a month after Hyundai gave Xcent a facelift on April 20 and two months after Tata rolled out its "Styleback" Tigor on March 19.
The three cars are very differently styled, come from companies which make cars with different philosophies and have their distinct brand image.
However, the three cars cater to the same set of car-buyers with same purpose -- a family car. Let's stack the three cars against each other and find out:

Maruti Suzuki Dzire vs Hyundai Xcent vs Tata Tigor: Clash of compact sedans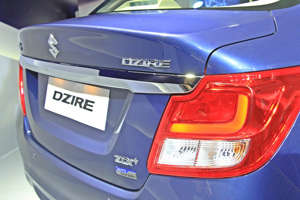 © MotorTrend India Maruti Suzuki has redesigned the compact sedan completely on a new Heartect platform, and "not just a Swift with a boot".

First look: 2017 Maruti Suzuki Dzire


This is the first undisguised pic of the new Maruti Dzire and the new generation model will be launched in some time.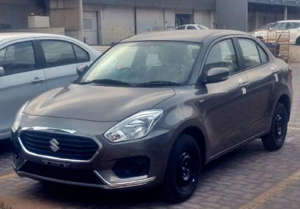 © Motor Trend Staff The new Maruti Dzire