New Maruti Suzuki Dzire vs Old Dzire, Ciaz and Volkswagen Ameo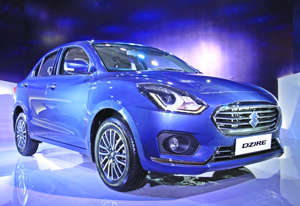 © Motor Trend India New Maruti Suzuki Dzire
New 2017 Maruti Suzuki Dzire: Old Vs New

Maruti Suzuki's new Dzire is the third update for the compact sedan since its introduction in the country back in 2008. The compact sedan slowly began to gain wide-spread popularity amongst Indian car buyers with its big boot, rock-solid reliability and Maruti Suzuki's brand image. The Dzire averaged sales of 15,000-16000 units every single month in the last couple of years. 

And though the outgoing car didn't have any difficulty in finding takers, Maruti Suzuki thought of revamping the segment leader and taking the game further in the wake of competitors also updating themselves. Much has changed in the new Dzire compared to its predecessor. Here's a detailed look at the differences between the two. Read more

New Maruti Dzire Vs Ciaz
Finally, Maruti has launched the third gen Dzire which claims to be the best ever version of the sub-four meter sedan which has been now positioned as a premium entry level sedan. At least that is what we could figure out after the prices were revealed. The new Dzire starts from Rs 5.45 lakhs going all the way to Rs 9.41 lakhs for the top variant.
This brings us to a question whether the buyer should buy the Dzire or opt for the bigger and premium sibling, Ciaz which now retails through the NEXA dealerships. So the question arises; it worth to buy the Dzire or you should consider the Ciaz? Let us get you all facts at once. Read more

Maruti Suzuki Dzire AMT Vs Volkswagen Ameo diesel AT
A few years ago, it was hard to imagine the Indian car market making a beeline for automatic vehicles. Manuals ruled the roost and everyone (mostly for budget reasons) was content with regular exercise for the left and right legs. However, the industry has progressed and now everyone wants a two-pedal setup for their vehicles.

Across pricing spectrums, manufacturers have begun to offer AT options and they have been growing with popularity. Now, wanting to raise the bar, Maruti Suzuki has begun offering with the new Dzire, a diesel AMT option across all variants (except the base LDi). Read more
Also watch:
(Video provided by NDTV)


New Dzire: Maruti's superstar Sedan
New Dzire: Maruti's superstar Sedan (Photos provided by Motor Trend India)