Wards Auto Picks its 10 Best Interiors for 2016

Motor Trend
17-06-2016
Luxury rules in this list of automotive interiors. Wards Auto announced its picks for the 2016 Wards 10 Best Interiors list and the group was dominated by six luxury brands. Last year, only three luxury makes made the list. The publication says the reversal of roles was due to the high number of new luxury models, which accounted for 19 of the 47 vehicles considered for the contest. Audi, for example, had five vehicles including the A4, A6, Q7, S7, and TTS. Wards Auto evaluated all 47 vehicles for aesthetics and design harmony, materials, ergonomics, safety, comfort, value, and fit-and-finish. Infotainment systems were also considered. Below are the winners.
2016 Audi TTS
Not surprisingly, the editors were most impressed with the Audi's infotainment system, including its "virtual cockpit" that integrates multiple displays in the instrument panel.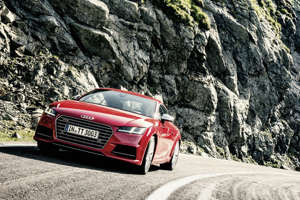 2016 Audi TTS
"Audi redefines how a driver experiences a compact sports coupe by integrating buttons and climate controls in clever places on the instrument panel," Wards states.
2016 BMW 7 Series
BMW's flagship makes the list thanks to "enough electronic wizardry to entertain a member of the Geek Squad for hours." 
2016 BMW 7 Series
Among the new tech bits found in the 7 Series includes an improved iDrive system with gesture control and a trick key fob that doubles as an information display.
2017 Cadillac XT5
Caddy's new XT5 received high marks for luxurious and high-quality materials.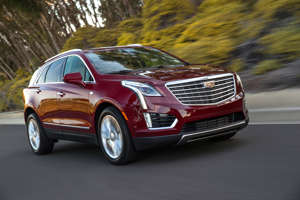 2017 Cadillac XT5
Wards lists the Rosewood trim, semi-Aniline leather, and microsuede headliner as standouts, while the innovative rear camera mirror also impressed. Editors appeared to be fans of the Cadillac User Experience (CUE) infotainment system and also pointed out the "flawless fit-and-finish."
2016 Chevrolet Camaro
The 2016 Motor Trend Car of the Year makes the list thanks to soft materials, heated and cooled front seats, and ambient lighting. 
2016 Chevrolet Camaro
Wards says the 2016 Camaro has "set a new standard for an interior in this segment" suitable for "comfortable cruising."
2017 Chrysler Pacifica
The new Pacifica minivan is packed with clever storage solutions and upscale materials. 
2017 Chrysler Pacifica
Editors were surprised by how comfortable the third-row seats were and the updated Stow 'n Go seats received high marks for their ability to fold flush into the floor.
2016 Honda Civic
The Civic is the least expensive car on this list, but its interior has a long list of impressive features. Wards says the 10th-generation Civic has "spot-on" aesthetics thanks to its metallic trim and contrasting stripes on the seats.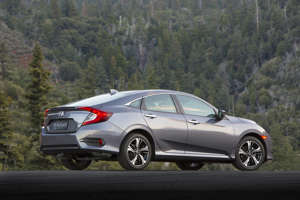 2016 Honda Civic
The Civic's available tech features are notable as well, and include an available premium sound system with 10 speakers.
2016 Lexus RX
Since its introduction almost 20 years ago, the Lexus RX has set the bar in its segment, and its interior has always played a role in its success. 
2016 Lexus RX
Wards says the new 2016 RX continues that tradition with "impeccable fit-and-finish" and comfortable seats. Editors were also impressed by the roomy cargo area.
2016 Mercedes-Benz GLC
Wards has been impressed with recent offerings from Mercedes-Benz and has included the S-Class and the C-Class in past lists. 
2016 Mercedes-Benz GLC
The new GLC continues that trend with outstanding tech, roomy front seats, and what Wards considers a relatively low price.
2016 Nissan Maxima
Nissan's "Four-Door Sports Car" makes the list thanks to an interior that competes with more expensive cars.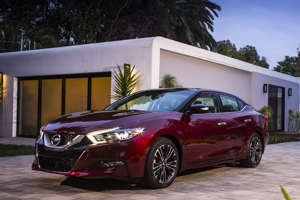 2016 Nissan Maxima
According to Wards, the new Maxima "makes a brilliant first impression with expert craftsmanship" and "loads of spectacular touches" like Alcantara seats with diamond-quilted patterns and the "Liquid Chrome" trim.
2016 Volvo XC90
The 2016 Motor Trend SUV of the Year rounds out the list with an interior that Wards says "makes the most dramatic styling statement in this year's competition."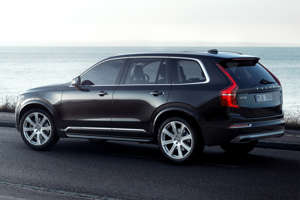 2016 Volvo XC90
Highlights of the XC90 include Walnut wood inlays with a diagonal pattern, an Oreffors crystal gear shifter, and a fancy speaker that rises from the instrument panel.
What do you think of Wards Auto's picks? Are there any knock-out interiors that they missed? Tell us in the comments below.
Source: Wards Auto