Alia Bhatt injured after meeting with accident on Kalank set

India Today
19-06-2018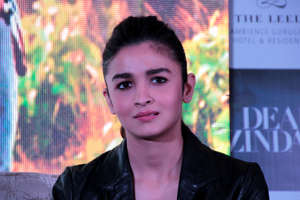 © Getty GURUGRAM, INDIA - NOVEMBER 22: Bollywood actress Alia Bhatt at a promotional event of her upcoming film Dear Zindagi on November 22, 2016 in Gurugram, India. (Photo by Shivam Saxena/Hindustan Times via Getty Images) It hasn't even been three months since Alia Bhatt injured her shoulder on the sets of Ayan Mukerji's Brahmastra, and she has suffered yet another injury. Alia Bhatt met with an accident on the sets of her upcoming film Kalank and has hurt her foot.
The actress tripped on the stairs and has got a bandaged foot now.
However, the injury hasn't stopped Alia from fulfilling her professional commitments. The actress is on a tight schedule, what with both Brahmastra and Kalank proceeding simultaneously.
A source informed a tabloid, "She is also juggling the shoot of Brahmastra with Ranbir Kapoor and Amitabh Bachchan so she can't take a break. She has been resting in between shots so the injury is not aggravated."
Alia met with the accident over the weekend, while shooting for Kalank in Andheri. On her Instagram story too, one could spot the bandaged foot.
Three months ago, the 25-year-old actress hurt herself while filming an action sequence for Brahmastra in Bulgaria. Bhatt was advised rest post that injury to prevent aggravating it.
Alia is currently juggling the shoots of Kalank and Brahmastra.
Also watch: Ranbir reveals his marriage plan
(Video provided by Dailymotion)
More from India Today

India Today