Cuteness alert! Celeb babies who are ruling the internet

Hindustan Times
17-02-2017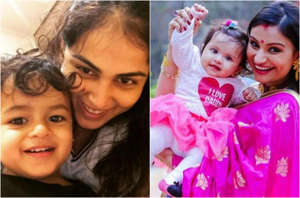 Celebrity babies are no less than stars in their own respect. At times, their adorably cute pictures catch even more attention than their star parents at parties. Here's taking a look at the recent ones that made us fall in love with their innocence and cuteness.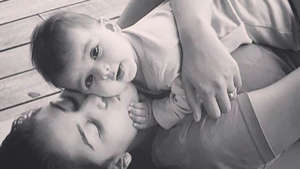 1. Misha Kapoor
When actor Shahid Kapoor shared the first picture of his daughter Misha with his wife Mira Rajput, it took social media by storm.
Misha, meaning 'Gold like', was born in August 2016. Shahid, who is quite guarded about his daughter, recently said that he wants Misha to lead a normal life away from all the glitz and glamour. He doesn't want her to get worried about the baggage of stardom when she grows up. 
© Provided by Hindustan Times  2. Ahil Sharma
Uncle Salman Khan makes sure he spoils nephew Ahil to bits. The social media profiles of parents Arpita Khan Sharma and Aayush Sharma are always flooded with pictures of Ahil, who was born in March 2016. Baby Ahil was once even photographed chewing one of Salman's most guarded possessions, his bracelet. Arpita shared a picture of this and wrote, "The things he does when I am not around."
© Provided by Hindustan Times  3. Riaan Deshmukh
Celebrity couple Riteish Deshmukh and Genelia Deshmukh are proud parents to Riaan and Rahyl. While the elder one is two-year-old, the younger brother was born in June last year. Genelia recently shared a photo of Riaan on his second birthday, and captioned it "Happy Birthday My Little Baby... I see a world that's unique, precious, beautiful and I see this world in my baby's eyes .. Thank you for making life worth it.. God Bless you always... #MySon'sbirthday #mylife #myeverything #myangel"
© Provided by Hindustan Times  4. Hinaya Heer Plaha
Cricketer Harbhajan Singh and his actor wife Geeta Basra welcomed their baby girl, Hinaya Heer Plaha, on July 28, 2016, in London. The Indian spinner shared the picture of his daughter towards the end of the year at Golden Temple, in Amritsar. Baby Hinaya celebrated her first Lohri in Jan this year and proud mother, Geeta Basra shared a picture on her Instagram page and wrote, "Happy first Lohri to our life.. our heartbeat Hinaya Heer! May You always be protected by the Almighty &we wish you nothing but the best!."
© Provided by Hindustan Times  5. Reanna Roy
Actor Dimpy Ganguly shared some pictures from a special photoshoot with her seven-month-old daughter Reanna and husband Rohit Roy. She shared this photo of Reanna making her pose like a diva and captioned it, "Hello peeps!! Don't miss Reanna's lovely smile."
© Provided by Hindustan Times  6. Gracia Raina
Cricketer Suresh Raina became a proud parent when his daughter Grace was born last year in Amsterdam. He often shares pictures of him posing with his daughter and Gracia too is an absolute poser when it comes to getting clicked.
© Provided by Hindustan Times  7. Ziva Dhoni
Baby Ziva is already a star on social media. Born to Team India's former Cricket captain Mahendra Singh Dhoni and Sakshi Singh Dhoni on February 6, 2015, Ziva has got a face for the camera and she's such a diva. Dhoni recently took to Instagram to share a video of him and Ziva crawling on the grass and showed how he enjoys playing around with his daughter.
© Provided by Hindustan Times  8. Taimur Ali Khan Pataudi
Taimur was a star from the day his arrival was announced. So on December 20 last year, when Kareena Kapoor Khan and husband Saif Ali Khan welcomed their first child, fans were dying to catch a glimpse of the baby. And their wish came true, as recently, a photo of the child surfaced on the Internet, which apparently Saif had put up as his display picture on Whatsapp. He bears close resemblance to mom Kareena. While mother Kareena had mentioned that Taimur is one of the most gorgeous baby, Saif declared, "He is a born star".

Next Story
Sridevi's golden advice for daughter Jhanvi