Ganesh Chaturthi At RK Studio, Maybe For The Last Time: Kapoor Brothers Perform Puja

NDTV
14-09-2018
The iconic RK Studio may have welcomed Lord Ganesh for the last time on Ganesh Chaturthi yesterday.
The studio built by Raj Kapoor in 1948 is up for sale (the family confirmed last month) and if it's sold within a year then it would have hosted Bappa for the last time in 2018. Raj Kapoor's sons Randhir Kapoor and Rajiv Kapoor visited the pandal set-up inside the studio situated in Chembur, Mumbai.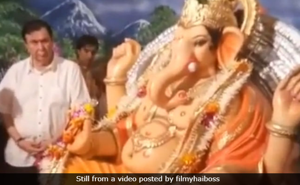 In a video shared by a fan club, the Kapoor brothers can be seen performing the aarti together. We also spotted Rajiv interacting with the devotees visiting Ganpati's temporary residence inside the studio premises.
Here's a video of Randhir Kapoor and Rajiv Kapoor performing the aarti, shared by fan clubs.
Last month, the Kapoors confirmed that RK Studio has been put up for sale after it recorded heavy losses. The family also said that rebuilding the studio, spread over 2-acre, was not "economically viable." Randhir Kapoor, who the eldest of Raj Kapoor's five children, told PTI last month: "Yes we have taken the decision to sell RK Studio. It is already up for sale. After the fire that broke at the studio it was not viable to build the studio again... It was not economically viable to do it again."

Fans of Raj Kapoor and several celebrities were heartbroken when the studio sale was confirmed and offered alternative uses of the premises such as a Raj Kapoor museum or filmmaking school but the family hasn't updated about the status of the studio's future.
Ganesh Utsav began with Ganesh Chaturthi yesterday and it will end after 10 days, when everyone who brought Ganpati home, will bid adieu to him with the promise to return the next year.
Stars celebrate Ganesh Chaturthi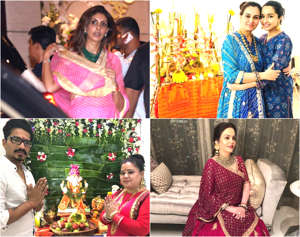 Download the Microsoft News app for your Android or iPhone device and get news & live updates on the go. Follow our Entertainment section in English and Hindi.