Janhvi Kapoor in Dhadak trailer is now a Mumbai Police meme

India Today
22-06-2018
The trailer of Janhvi Kapoor's Bollywood debut film Dhadak is the talk of the town. The film is the Hindi remake of the 2016 Marathi film Sairat, and with Karan Johar backing this version, the internet is already talking non-stop about Dhadak.
The Dhadak trailer hit the internet a few days ago. Ever since, it has held netizens captive for reasons both positive and negative. The trailer received its fair share of compliments... and quite a lot of trolling.
While some pointed out the lead actors, Janhvi Kapoor and Ishaan Khatter's lack of emotions in the trailer, others found the lavish set design way too much for a film inspired by a low-budget movie like Sairat.
And now, the Mumbai Police also seems to have been bitten by the Dhadak bug.
In a tweet today, the Mumbai Police used a still from the Dhadak trailer to send a message across.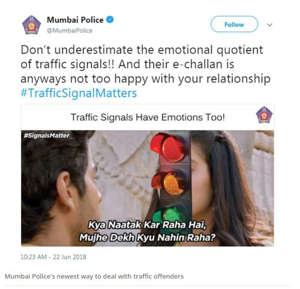 "Don't underestimate the emotional quotient of traffic signals!! And their e-challan is anyways not too happy with your relationship #TrafficSignalMatters (sic)" read the tweet from the Mumbai Police's official account, with the now-viral still from Dhadak trailer where Janhvi asks Ishaan, "Kya naatak kar raha hai, mujhe dekh kyu nahi raha?"
But Janhvi Kapoor has been handling the praise and criticism quite appreciably.
In an interview to India Today Television this week, Janhvi said, "I'm just really thankful for the love that it's gotten. It's been overwhelming. I hope they [people who did not like the trailer] change their mind after watching the film."
Janhvi also spoke about handling the criticism that accompanies stardom.
"Up until this point it was like, if they're going to criticise me for how I look while coming out of the gym, I don't really care. But all of a sudden, now I'm a little more nervous because I am supposed to be good at this, right? This is what I've wanted to do. I want people to love me. The only thing that you can do is work hard and give it your all and hope that that's enough. But usually, you never know. I think that the only thing I'm trying to do is honest work. I hope that one day I will deserve people's love," said the Dhadak actor.
The 21-year-old went on to add, "You're criticised even for being 'proper'. I don't think it's anything that I have any right to complain about. It is flattering that people take that kind of time out of their day to give me that kind of attention. I hope one day I do something to deserve it."
Shashank Khaitan-directed Dhadak will mark the Bollywood debut of Janhvi. Ishaan Khatter, on the other hand, was last seen in Iranian director Majid Majidi's Beyond The Clouds.
Also watch: Ishaan protects Janhvi from a mob of fans
(Video by IANS)
More from India Today

India Today