Kangana was kicked off projects, she lost jobs because of Hrithik Roshan, alleges sister Rangoli

Hindustan Times
06-10-2017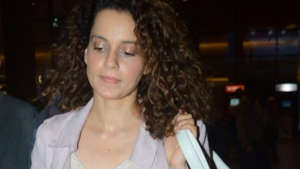 Responding to Hrithik Roshan's statement against her sister Kangana Ranaut, Rangoli Chandel shot off a string of tweets, first accusing Hrithik of fabricating facts, and then alleging that he keeps changing his stance on matters.
Rangoli's response came hours after Hrithik published a statement on his social media accounts, in which he claimed to have never met Kangana 'one on one' in all the years they've known each other. They shared a professional relationship but nothing more.
Issues between the two actors surfaced when Kangana hinted at Hrithik being her "ex" in January 2016, saying in an interview that she fails to understand "why exes do silly things to get your attention".
"Everyone who accuses Kangana for calling him a silly ex," Rangoli wrote, "and starting it all should know that for months Hrithik's PR maliciously spread fake news like Kangana pinning over him.
Everyone who accuses Kangana for calling him a silly ex....

— Rangoli Chandel (@Rangoli_A) October 5, 2017
....and starting it all should know that for months Hrithik's PR maliciously spread fake news like Kangana pinning over him....

— Rangoli Chandel (@Rangoli_A) October 5, 2017
.....Hrithik kicking Kangana out of projects, Kangana being replaced on Hrithik's insistence etc.

— Rangoli Chandel (@Rangoli_A) October 5, 2017
In 2016 Hrithik said there is an imposter who is fooling Kangana and my target is the imposter not Kangana.

— Rangoli Chandel (@Rangoli_A) October 5, 2017
...Hrithik changed 3 lawyers and his stance also, now Kangana is mentally ill and his new target , not the imposter.

— Rangoli Chandel (@Rangoli_A) October 5, 2017
My question 2 Hrithik is u hv 2decide one thing if Kangna ws foold by ur impostr den she didn't imagine....

— Rangoli Chandel (@Rangoli_A) October 5, 2017
...and if she imagined then there was no imposter. #chooseone

— Rangoli Chandel (@Rangoli_A) October 5, 2017
If you choose imposter then show the imposter to the world if you choose Kangana's imagination then show us Kangana's medical reports.

— Rangoli Chandel (@Rangoli_A) October 5, 2017
Prove one thing don't keep changing lawyers and stance. And Brainless paid trollers are not goin to help.

— Rangoli Chandel (@Rangoli_A) October 5, 2017
"Hrithik kicking Kangana out of projects, Kangana being replaced on Hrithik's insistence etc," she continued. My question 2 Hrithik is u hv 2decide one thing if Kangna ws foold by ur impostr den she didn't imagine, and if she imagined then there was no imposter."
She added, "If you choose imposter then show the imposter to the world if you choose Kangana's imagination then show us Kangana's medical reports. Prove one thing don't keep changing lawyers and stance. And Brainless paid trollers are not goin to help."
Watch: Hrithik attacks Kangana Ranaut
(Video provided by IANS)