Karisma Kapoor's ex Sunjay Kapur celebrates first anniversary with wife, Priya Sachdev

Hindustan Times
14-04-2018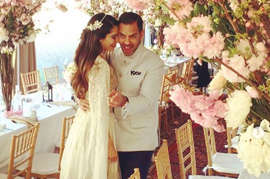 Priya Sachdev is celebrating her first anniversary with husband Sunjay Kapur. The doting wife shared a sweet message for him on Instagram with a few photos from their wedding in April last year.
"Happy Anniversary my Darling Husband...Love you from the Sun and Back Infinite Times! You Complete Me in every way possible...Thank you for your unconditional love This last One year has been beautiful and always a roller coaster with you...looking forward to a lifetime of more beautiful years of married life with you my Handsome Husband!," she captioned the photo. Priya is Sunjay's third wife. Before her, he was married to actor Karisma Kapoor but the two got divorced in 2016. 
The Delhi-based industrialist and his model wife tied the knot on April 13 in New Delhi then flew to New York for the reception. The two had been dating since 2013.
ये भी पढ़ें: विनोद खन्ना कभी यहां करते थे माली का काम, बन गए थे संन्यासी
Priya recently also posted birthday wishes for Karisma and Sunjay's two kids, daughter Samaira and son Kiaan. "Happy Birthday #Samaira wishing you a very Happy 13th Birthday Princess you are officially a Teenager now...! Love you," she had written in an Instagram post.
Check out a few more pictures of the couple:
Sunjay and Karisma tied the knot in 2003 and their very divorce was finalised in June 2016. The Delhi high court advised the couple to explore the possibility of a settlement when they wanted a divorce in 2005. Karisma moved out of his house in Delhi in 2010 to Mumbai, which was when her younger son Kiaan was born. In 2014, the two decided to end their marriage and filed for divorce.
Also watch: Watch: Sunjay Kapur and Priya Sachdev's wedding reception
(Video by Lehren)