London schedule of Salman Khan's Bharat cancelled?

Mid-Day
18-06-2018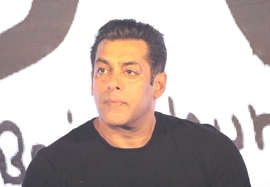 With a month to go before Salman Khan kicks off Bharat, director Ali Abbas Zafar has the mammoth task of reshuffling the shooting locations. While the drama - also featuring Priyanka Chopra - was supposed to roll in London by July-end, it has been heard that Zafar has been asked to forgo European countries and zero in on new locales by producer Atul Agnihotri. The development comes in the wake of Khan's conviction in the 1998 blackbuck poaching case in April.
Priyanka Chopra
A source says, "There is a fair chance that Salman will not be allowed to enter the UK given his conviction in the case. He is currently out on bail, and has been permitted to perform in the US because the concerts had been announced beforehand. Bharat was to kick off in London, followed by stints in Spain, Poland and Portugal. But, it will be difficult for Salman to procure permission to shoot in any of the European countries for extended period of time. As a result, Zafar has only briefed the team about the first schedule that will be held in Punjab."
Ali Abbas Zafar
An adaptation of An Ode To My Father (2014), Bharat traces India's story from 1947 to the 2000s. Keeping the current situation in mind, the team is now apparently toying with the idea of filming some sequences in Abu Dhabi. A production unit member reveals, "Canada is another option. However, with the current terms of his conviction, Salman can't shoot a straight 45-day schedule outside India. Even if the courts allow it, it may draw unnecessary attention from people. The team has decided it's best to avoid shooting overseas." The final call will be taken after Salman Khan returns from the Da-Bang tour. Zafar and Agnihotri remained unavailable for comment.
Also watch: Priyanka Chopra signs Salman Khan-starrer 'Bharat' for Rs 12 crore
(Video by The Times of India)