Love triangle! Deepika Padukone still can't get over Ranbir Kapoor and Ranveer Singh is aware of it?

International Business Times (IN)
12-01-2018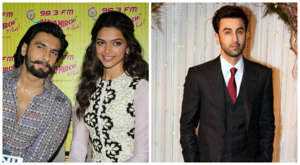 Deepika Padukone is rumoured to be dating Ranveer Singh, but there is a buzz that the actress has still not got over her ex-beau Ranbir Kapoor, The Asian Age reported.
It is well known that Deepika and Ranbir had dated each other for quite some time. Their relationship did not work for some reasons, and the duo had parted ways.
Post their split, Deepika became good friends with Ranveer, and soon rumours of their affair started doing the rounds. Although neither Deepika nor Ranveer ever confirmed their love, it is now believed that the Padmavat stars are very much in a relationship.
However, a report in The Asian Age states that DP still can't get Ranbir out of her head, and that apparently has been causing some problems between her and Ranveer.
"She could never shake him off from her emotional slate. Although he (Ranbir) has moved on from their relationship a long time ago, Deepika continues to hold him dear for some reason. Today, Ranbir likes to think of Deepika as just a good friend, but she hasn't been able to move from lovers to friends," a source told The Asian Age.
The report further stated that Ranveer is very much aware of this, but still, he is trying to be patient with his rumoured girlfriend.
"Ranveer is the best boyfriend a girl can have. He is devoted and committed. He is aware of the attachment that still exists between his lady love and her former boyfriend Ranbir. Ranveer is well aware that Deepika hasn't gotten over Ranbir, but he is patient and is waiting for Deepika," the source told The Asian Age.
Recently, the Piku actress and Ranveer had reportedly spent a vacation together in the Maldives. They were spotted returning together at the Mumbai airport. There were reports claiming that their families had also accompanied them on the trip, where the two stars were supposed to get engaged.

There were also reports saying that Ranveer recently took Deepika to his grandmother, following which the duo drove back together to the actor's house in Mumbai. With so much happening around the two rumoured love-birds, it is being believed that they might tie the knot soon.