Raazi song Dilbaro perfectly captures Alia Bhatt's emotional turmoil. Watch video

Hindustan Times
26-04-2018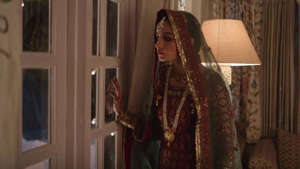 The second song title Dilbaro from Raazi has been released, and it carries the momentum set by the trailer and first song, Ae Watan, forward. It's a melodious number that highlights the pain in a daughter's heart when she leaves her parents' house after marriage in traditional Indian households. Voiced by Harshdeep Kaur, the song beautifully depicts the conflict in Alia Bhatt's mind. In the film, she is playing an Indian spy married to a well-placed Pakistani army officer, played by Vicky Kaushal.
The video of the song also shows Rajit Kapoor, who is playing Sehmat's (Alia), patriotic father. He, in a way, volunteers to send his daughter on an espionage mission in Pakistan in the backdrop of 1971's war between India and its neighbour. Sharing the song, Alia wrote, "#Dilbaro is a song that made me tear up the first time I heard it.. the lyrics are simple, powerful and just beautiful. Written by the maestro Gulzar Saab. I couldn't help but think of my father who's held my hand but also let my fly.. my most special friendship! Love you papa."
Based on the book, Calling Sehmat, by Harinder Sikka, Raazi appears like an emotional film about what goes through an innocent girl's mind when faced on a mammoth mission that involves marrying a man (played by Vicky Kaushal who plays a Pakistani soldier) who is technically her enemy.
Directed by Meghna Gulzar, who has directed films like Talvar and Filhaal, Raazi has Alia as a protagonist who has yet not come to terms with her changed circumstances. Lyricist Gulzar, also the father of director Meghna, has captured the tense yet tender situation through his poetry. It's a soothing but telling number.
Read: Sonam Kapoor on working after marriage: No one asked Shahid Kapoor this question
Dilbaro has a high emotional appeal, and musicians Shankar-Eshaan-Loy have enhanced the effect by using Kashmiri couplets in the song. It may also remind you of their songs in Mission Kashmir.
Raazi is scheduled to hit the screens on May 11, 2018.
Also watch: Alia Bhatt singing on Varun Dhawan's birthday 
(Video by Dailymotion)
See in pics: Bollywood celebrities and their nicknames