Reema Lagoo was strong, lived life on her terms: Her Tu Tu Mai Mai bahu Supriya Pilgaonkar remembers

The Indian Express
19-05-2017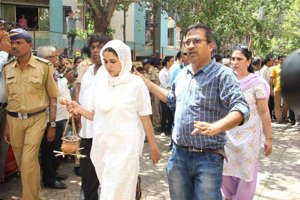 Reema Lagoo and Supriya Pilgaonkar played saas-bahu in the 90s soap, Tu Tu Mai Mai. Eons away from the conspiring DILs and MILs on TV today, these two women shared a real relationship, which was humorous and all heart. Reema's Devaki Verma and Supriya's Radha Verma would fight and bicker but would be as thick as thieves as soon as someone tried to come between their relationship. Such was their chemistry together that the show features in the top 5 for anyone who grew up in the 90s. As the shocking news of Reema Lagoo passing away came early on Thursday morning, her onscreen bahu remembered her as a "strong, feisty" woman.
Shocked by her co-star's sudden death, Pilgaonkar says, "I am at loss for words. Reema was a superlative actor... just amazing. Whichever role she did, it appeared as if it was cut out for her."
Supriya and Reema's on-screen chemistry was loved by one and all, and in no time they became the favourite mother-in-law and daughter-in-law duo of Indian households. Supriya said, " We worked together for so many years. I saw her so closely." But Supriya definitely thought of Reema was to do bigger things in life. She thought that Reema being Reema was definitely meant to do something huge and that she shouldn't have only confined herself to acting. She said, " She (Reema Lagoo) was an avid reader. I always felt she should write and direct."

And after such a huge body of work in the industry, Supriya thought of Reema as a great actor, and more so a greater human being. Supriya adds, "Reema Lagoo did live life on her own terms. She was a very strong woman."
(Video provided by Lehren)