Sanju teaser: Let Ranbir Kapoor take you through Sanjay Dutt's life

Hindustan Times
24-04-2018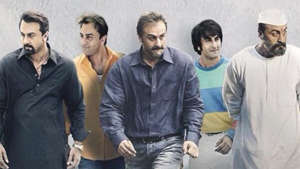 He was born with the silver spoon, did enough drugs that his body gave way, was incinerated for years and continue to be the top Bollywood actor till date. Sanju teaser, which stars Ranbir Kapoor as Sanjay Dutt, released on Tuesday morning. How do you sum up the life of a 58-year-old man in a 80-second teaser? By letting him, at various stages of his life do the talking.
There is Sanjay Dutt as a youngster, Sunjay Dutt living the high life in New York hotels, a drugged-out Sanjay Dutt begging on the streets and Sanjay Dutt inside the jail. Ranbir Kapoor has managed to grasp the mannerisms of the star who has a rather pronounced style. However, the reaction to the teaser will show how fans perceive Ranbir as Sanjay.
Watch Sanju teaser starring Ranbir Kapoor
Written and directed by Rajkumar Hirani, the film stars an ensemble cast in addition to Ranbir Kapoor. Anushka Sharma, Paresh Rawal, Sonam Kapoor, Dia Mirza, Karishma Tanna, Manisha Koirala, Jim Sarbh, Vicky Kaushal and Boman Irani are also part of the film.

Ranbir worked hard on his physique for the film and transformed for various phases of Sanjay's life. However, the Barfi star has claimed he was not focussing on the looks. "Getting the look right is very superficial, it is easy as you have help from make-up and computer graphics. To show Sanjay Dutt as a human being, as a biopic only works when you show the human side of a person -- and not the glories but the downfall as well, was not easy," Ranbir had said. The team underwent tremendous research for the film including watching more than 200 hours of footage for the film.
Earlier, talking about a biopic on his life, Sanjay had said in an interview, "I have not had an easy life. I have made way too many mistakes, and I want youngsters to really learn from it. So, if you ask me, it was definitely worth telling my story, because I want it to make a difference to the generation today."
Talking about the film's title, Hirani told DNA, "Actually, we thought of many titles. One of them was Aisa Hi Hoon. Anything you attach with a name in a biopic is like an adjective. Even if you say Aisa Hi Hoon or Sarphira, either you are glorifying him or attacking him. One thing all of us were clear about was that we wanted a neutral title. Dutt seemed a little harsh. Then I heard a gem from him. Apparently, Nargisji used to call him 'Sanju' with a lot of affection. We thought this is the most non-committal and neutral title, with no pre-conceived notions."
Also watch: Sanju teaser: Here's what the viewers said
(Video by Dailymotion)
ये भी पढ़ें : इस डायरेक्टर ने नहीं दी एक भी फ्लॉप, कभी पैसों के लिए करना था ये काम