Saroj Khan makes a U-turn, apologises for her remark on casting couch

India Today
24-04-2018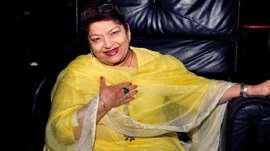 After ruffling feathers with her statement on casting couch in Bollywood, choreographer Saroj Khan has apologised for her remark.
A known name in Bollywood, Saroj has made many stars dance to her tunes in many hit songs. But Khan came under the radar recently when she defended the tradition of casting couch in Bollywood.
Also on MSN: Saroj Khan defends casting couch: It provides livelihood, doesn't rape and leave you
Khan said that sexual harassment is not just restricted to Bollywood, and blaming the film industry alone is unfair. She added that casting couch is done with consent and provides livelihood.
"This is going on from 'baba Adam's times', it is not new. Someone or the other always try to take an advantage of a girl. The government does it too, then why are we only behind the film industry? It provides livelihood at least. Does not rape and leave you. It is up to the girl, what she wants to do. If you don't want to fall into wrong hands, you won't. If you have art, why would you sell yourself? Don't take the film industry's name, it is everything to us," added the choreographer.
Her statement received a lot of flak, especially coming from a woman who has been a part of the industry for many decades. She later apologised for her remark.
Also watch: Saroj Khan defends casting couch
(Video by The Times of India)
More from India Today

India Today