See Akshay Kumar and kids Aarav-Nitara in 7 photos

India Today
14-02-2017
Akshay Kumar is a doting dad first, and everything else later. At least that's what a look at his social media accounts would have you believe... unless you take his husband-act in consideration, that is. We take a look at seven of the cutest photos of Akshay with his kids.
Akshay has been making sure his children are trained in self-defence.
You may also like: Akshay Kumar's love for the martial arts
Akshay Kumar and Twinkle Khanna welcomed their first child, son Aarav, in 2002. Daughter Nitara was born in 2012.
© India Today Speaking about training Nitara in self-defence, Akshay said, "I can only protect my daughter if she learns to protect herself. I wish I could hold her hand for the rest of her life, but I know that that's just a father's dream."
Speaking about his daughter, Khiladi Kumar said, "Whether she likes it or not, she will have to learn these self-defence techniques. I already have a feeling that Nitara's going to be a little Ninja. There is power in her big brown eyes, and I can't wait to put that to some good use."
As for Aarav, the 14-year-old already has black belts in both karate and judo. And Akshay couldn't be a prouder dad. "Aarav earning his black belt means more to me than when I bagged my own. The sheer pride and happiness he has given me and his mother is something he'll never know till he has his own child. I have been there throughout his struggle; I know the pain he's been through, and the kind of dedication it takes. But this moment, and his achievement, will never be taken away from him; he's earned my respect for life."
Akshay has also said that his son Aarav doesn't think of him as an actor: "He sees me at home every day and there I am not an actor to him and just a father."
The actor, who is father to son Aarav and daughter Nitara, makes sure he gives his fans and social-media followers a glimpse of his life as a fun dad every once in a while.
Recommended: Celebs who look like their famous parents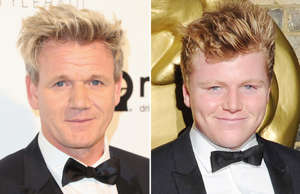 More from India Today

India Today