Sonali Bendre, getting cancer care, celebrates Book Lovers Day in New York. See her pic

Hindustan Times
10-08-2018
Sonali Bendre had decided early on after her cancer diagnosis that she will fight it with spirit and sunshine.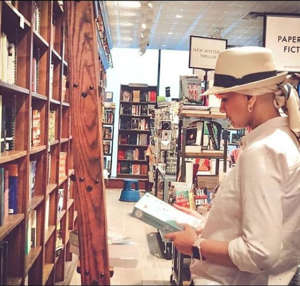 The actor was diagnosed with high grade cancer that has metasised but through her social media updates, she has time and again proved that she is keeping her positive outlook and sense of humour intact. Sonali's husband Goldie Behl, meanwhile, returned to Mumbai for some important work. He has been by Sonali's side as she started her treatment in the US.
(Video by Dailymotion)
On Friday, Sonali shared a new photo where she can be seen browsing through books in what looked like a huge book shop and wrote, "Happy book lovers day." A book lover who also ran her own book club in Mumbai, Sonali was dressed casually with a scarf and a hat.
On Friendship Day, Sonali had shared a 'bald is beautiful' photo and was surrounded by friends Sussanne Khan and Gayatri Oberoi. "This is me. And in this moment, I am really happy. People give me strange looks when I say that now, but it's true and I'll tell you why. I am now paying attention to every moment, looking for every opportunity to find joy and #SwitchOnTheSunshine," wrote the actress.
"Yes, there are moments of pain and low energy, but I am doing what I like, spending time with people I love, and feeling very loved and happy. I am extremely grateful to my friends, my pillars of strength, who at a moment's notice, arrived to be with me and help me through this. In between their busy schedules they find time to visit, call, message, FaceTime... basically never leaving a moment for me to feel alone," Sonali added. She had later tweeted her friends conducting a session of her book club as well.
"Thank you all for the love and support for Sonali... she is stable and is following her treatment without any complications. This is a long journey but we have begun positively," Goldie informed Sonali's fans in a tweet on August 2.
In pics: Sonali Bendre gets a haircut as she undergoes cancer treatment in New York
(Pictures by IBT)