We are pregnant: Soha Ali Khan and Kunal Kemmu

Hindustan Times
21-04-2017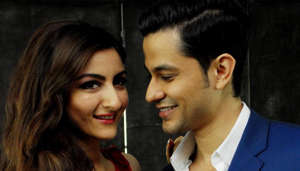 © Hindustan Times After Saif Ali Khan and Kareena Kapoor became proud parents to a baby boy, Taimur, on December 20, 2016, Pataudi family is ready to welcome another bundle of joy in their clan. Actors Soha Ali Khan and Kunal Kemmu, too, are expecting their first child. Soha and Kunal got married on January 25, 2015.
"Yes it's true... Soha and I are very happy to announce a joint production coming later this year - our first child! :) We feel blessed and thank you all for your good wishes (sic)," Kunal confirmed the news through a text message. When prodded further about his feelings on becoming a father soon, the actor replied, "Hi I'm shooting in Hyderabad and have bad network."
When we messaged mommy-to-be Soha Ali Khan, and congratulated on the good news, she, too, confirmed the news saying, "Thank you so much."
It'll be interesting to see whether Soha, too, will follow the footsteps of her sister-in-law Kareena and make stylish appearances through her pregnancy. Looks like Taimur will get to celebrate his first birthday with his cousin! Fans surely can't wait to see Soha and Kunal's "joint production".
Related: Soha breaks his silence on pregnancy rumours (Video provided by Dailymotion)