Why everyone is in absolute love with Sara Ali Khan

DailyO
05-12-2018
Saif Ali Khan and Amrita Singh's daughter Sara Ali Khan is all set to make her debut.
This news was there soon after Sara probably wrote the last exam paper of her graduation from Columbia University. Magically however, this news still stands true after two years as the latest star kid on the block is finally setting foot in the industry with two back-to-back releases — Kedarnath and Simmba.
© Provided by T.V. Today Network Limited sara 1 The newest star kid with two films slated to release this December. (Photo: Reuters)
But hasn't it occurred to you yet that the nepotism debate is not gaining ground the way it did when Alia Bhatt and Varun Dhawan debuted in Student of the Year (along with Siddharth Malhotra)?
Has the debate, gasp, died?
We are not sure whether it's perfect PR machinery or the Columbia graduate's charisma — everyone is quite in awe of the newcomer — who is sharp, intelligent, doesn't deny the privileges of being born to Amrita Singh and Saif Ali Khan, discusses her health issues, her parents' ill-fated marriage on national television, and then writes a letter to journalists even before her first film hits the screens, and invites them over for a cup of coffee.
© Provided by T.V. Today Network Limited sara 2 The script for Sara's Bollywood entry is perfect. (Photo: Instagram)
What's clear is this — Sara Ali Khan is smart.
Also watch: Ranveer Singh is married to big lioness : Sara Ali Khan
(Video by IANS)
While it took other Bollywood stars years to understand the benefits of writing an open letter sitting at the corner of your home and then making it public through fan pages on social media, Sara Ali Khan has already learnt such 'secret' tricks of the trade.
Don't miss: Celebrity children all grown up: Then and now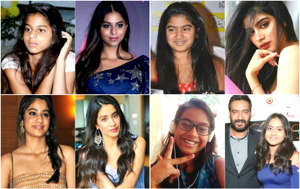 When Deepika Padukone talked about her depression, she was much adored for her frankness — the ability to shed the stardom and become a common person. On her very first television appearance now, Sara has disclosed how she used to suffer from polycystic ovary syndrome (PCOS) and was happy eating on and on. Did she bodyshame? Treading carefully, she accepted the 96-kg Sara as a delusional and a happy kid with no regrets.
Yes, she is smart.
© Provided by T.V. Today Network Limited sara ali khan Sara doesn't dodge questions. Neither does she dodge the Taimur doll, given to her during a recent promotion. (Photo: Instagram)
She is there on Instagram with her real name and on some alias as well! She is not there on Twitter officially, but is apparently there on some different names to monitor things.
Apart from logistical issues, which postponed Kedarnath for months, the trailer of the film has already been accused of promoting 'love jihad'. But Sara, it seems, knows how to tackle social media pressure. She replies to the comments of her fans on Instagram, when she's bored. Otherwise, she knows when to shut the door.
So, who has trained Sara is now the question that is clearly more important than the nepotism debate.
© Provided by T.V. Today Network Limited parents Team Sara! While Amrita has taken care of the control room, Saif is leading from the front. (Photo: Instagram)
Both Amrita and Saif.
While Amrita Singh apparently decided things from behind, Saif was the one with whom Sara made her first appearance on Koffee with Karan, and showed the world that if Saif Ali Khan defined 'cool' for one generation, Sara is much ahead of him.
And of course there is Karan Johar, producer of Sara's second film Simmba. So, a lot of people have put in their utmost effort to write the perfect entry for Sara Ali Khan, which should not clash with Rajinikanth's 2.0  and should be something where she gets the maximum space — not like Simmba, where there are many other people (read, Rohit Shetty, Ranveer Singh, even a possbile entry by Ajay Devgn) to eat the cake.
And so far, everything is going according to the perfect script!
Disclaimer: Editor's note: The opinions in this article are the author's, as published by our content partner, and do not represent the views of MSN or Microsoft.
CHECK OUT THE TOP STORIES OF THE DAY
Inside Priyanka-Nick's wedding reception
Priyanka Chopra and Nick Jonas hosted their wedding reception at the Taj Mahal Palace hotel in Delhi on December 4. See what all happened here.
.................
Priyanka Chopra, Nick Jonas' wedding photos out, she says forever starts now. 
The couple's pictures were shared by People magazine and Priyanka and Nick are also on its cover. See all the photos and videos here. 
..................
Kapil Sharma-Ginni Chatrath wedding: First rituals begin, Akhand Path held at bride's home
After the high-profile weddings of Deepika Padukone-Ranveer Singh and Priyanka Chopra-Nick Jonas, it is now the turn of Indian TV's favourite comedian, Kapil Sharma, to tie the knot. He is all set to marry his long-time girlfriend Ginni Chatrath in Jalandhar on December 12. Read all the details here.