Priyanka Chopra "Sorry" About Quantico Episode, Says "I'm A Proud Indian"

NDTV
10-06-2018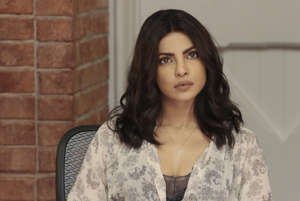 © Getty QUANTICO - 'Lipstick' - The new CIA recruits begin running counter-surveillance exercises at The Farm while Alex and Ryan navigate their new relationship with each other. In the future, Ryan and Raina try to disrupt the terrorists' plan to blend in with hostages while trust becomes a deadly weapon, as not everyone is who they seem to be, on 'Quantico,' airing SUNDAY, OCTOBER 2 (10:00-11:00 p.m. EDT), on the ABC Television Network. (Giovanni Rufino/ABC via Getty Images) PRIYANKA CHOPRA New Delhi: Actor Priyanka Chopra has apologised for airing an episode in her American TV series Quantico in which she played an anti-terrorist officer who plotted a bomb attack in the US to frame Pakistan for the attack. The episode drew criticism from Indians who claimed they were hurt by what appeared to be a portrayal of nationalists as terrorists.
In a tweet on Sunday, Priyanka Chopra said it was not her intention to hurt sentiments. The producers at US network ABC that airs Quantico has also asserted that the Indian actor has been targeted "unfairly".
"I'm extremely saddened and sorry that some sentiments have been hurt by a recent episode of Quantico. That was not and would never be my intention. I sincerely apologise. I'm a proud Indian and that will never change," Ms Chopra tweeted.
ABC has stood by the Quantico star amid attacks on social media against her, who is one of the highest-paid Indian actors and has also starred in Baywatch, a 2017 film based on the television series of the same name starring American actor Pamela Anderson. Priyanka Chopra made her debut in Quantico in 2015.
Quantico was Priyanka Chopra's debut American show. For the show, she had won People's Choice Award for two consecutive years.

"The episode has stirred a lot of emotion, much of which is unfairly aimed at Priyanka Chopra, who didn't create the show, nor does she write or direct it: ABC Network's apology for Hindu terror plot in
Quantico
," a tweet by news agency ANI read.
But that did not stop some people from attacking Priyanka Chopra on social media.
"...But still can't figure how come Priyanka Chopra agreed to ditch her own country and Indian people for mere breadcrumbs in West," a Twitter user Chopdasaab wrote. Another person, Saurav Shukla, tweeted, "You are never going to get any fame by insulting Indian audience."
Priyanka Chopra also found support amid the brutal trolling. Many tweeted to her saying it was only a TV show and had no basis on reality. "Why are you apologising for a fictional plot?" Josephina Khattab tweeted. Another Twitter user, Devesh Baheti, wrote, "It's sad that an artist has to apologise for being an artist."
(Video provided by Dailymotion)