The Walking Dead actor Scott Wilson dies of complications from leukemia at age 76

Daily Mail
07-10-2018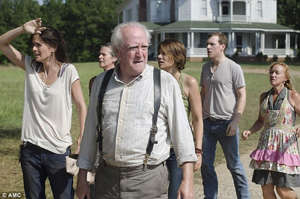 Scott Wilson, who famously played Hershel Greene on the AMC series The Walking Dead, has died aged 76 in Los Angeles of complications from leukemia.
The Georgia-born actor made his film debut in Norman Jewison's seminal 1967 film In The Heat Of The Night, playing a man suspected of murder.
His cause of death was revealed by his representative Dominic Mancini to TMZ, who reported the news this Saturday, saying he died peacefully at home.
'Scott will always be remembered as a great actor and we all feel fortunate to have known him as an even better person. The character he embodied on The Walking Dead, Hershel, lived at the emotional core of the show,' AMC told Us Weekly. 
Download the Microsoft News app for your Android or iPhone device and get news & live updates on the go. Follow our Entertainment section in English and Hindi.
'Like Scott in our lives, Hershel was a character whose actions continue to inform our characters' choices to this day. Our hearts go out to his wife, family, friends and to the millions of fans who loved him. Scott will be missed.'

The official Twitter account for The Walking Dead wrote: 'We are deeply saddened to report that Scott Wilson, the incredible actor who played Hershel on The Walking Dead, has passed away at the age of 76. Our thoughts are with his family and friends. Rest in paradise, Scott. We love you!'
The Walking Dead actor Khary Payton tweeted: 'The first time I met Scott Wilson, he gave me a big hug and said that this thing I had become apart of… was a family. He said I had a responsibility to take care of it. I have tried very hard to do that, sir. & I will continue. I promise. See you on the other side, my friend.' 
The year he made his film debut, he also starred as real-life murderer Richard Hickock in a movie of Truman Capote's iconic true-crime book In Cold Blood.
Wilson was a working across several decades, landing supporting roles such as George Wilson in the 1974 film of F. Scott Fitzgerald's The Great Gatsby.
Over the years, he amassed more than 50 movie credits, including in The Last Samurai, Pearl Harbor and Dead Man Walking.
In the 1980 psychological drama The Ninth Configuration starring Stacy Keach, Wilson memorably played an ex-astronaut who had a nervous breakdown while in a capsule for a moon launch, which he then aborted, landing him in an asylum.
His gripping performance earned him a Golden Globe nomination for best supporting actor in a movie, though he lost to Timothy Hutton for Ordinary People. 
At Comic-Con this week, Angela Kang, the showrunner of The Walking Dead, said that the show's new 9th season will feature Wilson.
Wilson appeared on 37 episodes of the show from 2011 until 2014, most recently on the season four episode A, which features him in flashbacks.
His character Hershel Greene, like Wilson himself, is from Georgia, though unlike Wilson he is a veterinarian struggling to protect his family from zombies.
Greene was decapitated in the season four episode Too Far Gone, only to have his head turned into a zombie and then killed again in the episode After.