Will Smith Wants To Start A Tuk Tuk Company

NileFM
15-10-2018
American actor Will Smith just wrapped up quite an adventurous and magnificent trip in India. [article id=2253]Throughout the past week, Smith got to meet a myriad of Indian actors, including Aishwarya Rai, whom he expressed his desire to work with in a Bollywood film.
"One of the things on my bucket list is to be on a Bollywood dance sequence. I met Aishwarya 15 years ago, we had conversations about doing something together but never happened. Perhaps I would do a film with her," smith told The Indian Express.
© Provided by NileFM He also revealed that he'd love to work alongside indian actor Amitabh Bachchan.
Other than visiting several tourist attractions, one of the most exciting parts of Smith's trip was his adventures aboard a tuk-tuk.
The actor shared a photo of himself driving around a tuk-tuk and there's no doubt he enjoyed it, which is even more obvious from his caption.
While Smith didn't reveal the purpose of his trip, several Indian publications reported that the actor is set to appear in the upcoming Bollywood film "Student of the Year 2," which is the sequel to the film of the same name.
He's also believed to appear on Koffee with Karan, a talk show hosted by film producer and director Karan Johar.
Last week, Smith shared the first teaser-poster of Disney's upcoming Live Action Aladdin, in which he will be playing Genie.
Egyptian-Canadian actor Mena Massoud will play Aladdin, English actress Naomi Scott will play Princess Jasmine and Tunisian-Dutch actor Marwan Kenzari will play Jafar.
Check out the teaser trailer below.
In pics: Celebrity kids all grown up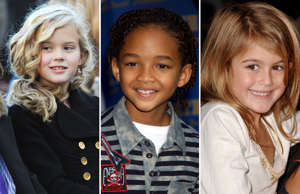 Also watch: Will Smith - Skydiving in Dubai
(Provided by Emirateswoman.com)
Download the Microsoft News app for your Android or iPhone device and get news & live updates on the go. Follow our Entertainment section in English and Hindi.