Sushant Singh Rajput did not attack Shahid Kapoor on Twitter for losing out the IIFA Best Actor award: Source

The Indian Express
17-07-2017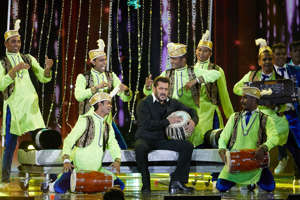 IIFA 2017 - Day 3 Many people are of the view that the International Film Academy or the IIFA 2017 was quite dud. Despite the Green Carpet night at the New York City getting concluded, the social media is still reeling under all its dazzling pictures. The who's who of Bollywood landed in New York and raised the temperature of the city like never before. While the pictures of celebrities are floating all around, the list of winners has also been revealed. And amidst all the post action catch up on the internet, Sushant Singh Rajput had to face the brunt of his 'expressions' on Twitter.
We all know that Shahid Kapoor won the Best Actor award for Udta Punjab and Alia Bhatt won the Best Actress award for the same film at the IIFA 2017. In the midst of all this, actor Sushant Singh Rajput went on and tweeted tagging IIFA , "@iifa hahahaha" which was seen cryptically by many, as a reaction for not being able to win the Best Actor award.
The actor who performed at the event lost the award for his brilliant work in MS Dhoni: The Untold Story. And his tweet has been interpreted as a case of upset mind, and in no time he began to get trolled for that on social media.
A performance that made the audience go back in time! @itsSSR breathtaking moves at the #IIFA2017 stage! pic.twitter.com/Vmf5efgf1x

— IIFA Awards (@IIFA) July 16, 2017
Award for Best Actor in a Leading Role - Male - @shahidkapoor for Udta Punjab. #IIFA2017pic.twitter.com/TUYYnaJ7do

— IIFA Awards (@IIFA) July 16, 2017
Here is Sushant Singh Rajput's tweet:
.@IIFA hahahaha

— Sushant Singh Rajput (@itsSSR) July 16, 2017
But a source very close to the actor told us "Sushant's tweet had nothing to do with the awards. It was simply an expression of having a successful graduation from a background dancer, to now being an actor performing at the very same award function. Infact the tweet was posted right after Sushant's performance and had no relevance to the award ceremony. As opposed to the speculation, not getting an award doesn't affect Sushant as he is very secure as an actor."
More from The Indian Express Entertainment

The Indian Express