Salman Khan's 'Kick' unveiled!
By IANS, India Syndicate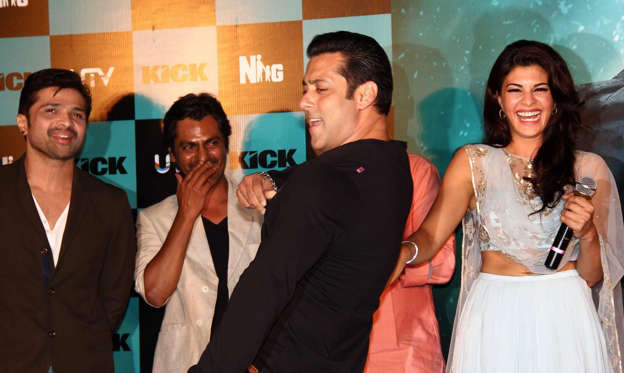 Himesh Reshammiya, Nawazuddin Siddiqui, Jacqueline Fernandez, Salman Khan
The trailer of the much-awaited Salman Khan movie 'Kick' was released Sunday, but the actor said that he won't speak much about his character."I am not giving any details about the character. If I'd tell you about my character in the film, you will make assumptions. So, it's better I keep it under wraps," Salman told reporters.Released at single-screen theatre Gaiety Galaxy, the event was attended by other cast members of the film.Salman's fans, who attended the launch, went berserk while watching the trailer.'Kick' marks producer Sajid Nadiadwala's directorial debut."I felt like a newcomer as I have been a producer for 27 years, but it was a great experience directing the film," said Nadiadwala.Salman Khan also seemed to be in awe of his 'Kick' co-star and Sri Lankan beauty Jacqueline Fernandez."There is one actress whom I love a lot and that is Zeenat Aman and I feel Jacqueline is the one who will reach that stardom," he told reporters Sunday at the trailer launch of 'Kick'.Still working hard to improve her Hindi diction, Jacqueline got ample support from Salman on the sets of the movie."I taught her some basics in Hindi and I must say she speaks Hindi well with the spotboys," said Salman.Click on, for some exclusive snaps of the celebrity cast and crew at the trailer launch of 'Kick'.
© Varinder Chawla