Star Wars 2015: new cast members unite with Harrison Ford and co.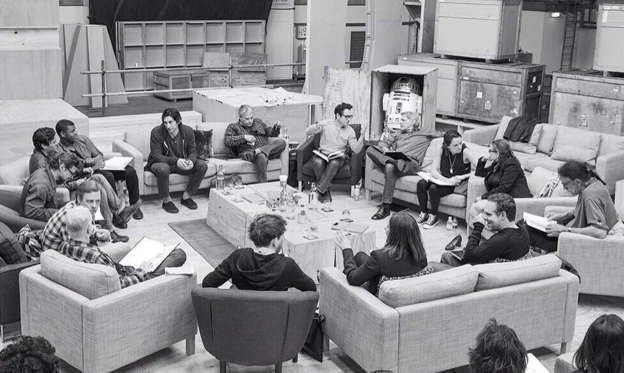 Star Wars VII cast photo
The official cast for the new Star Wars movie has been confirmed, by way of this image of JJ Abrams directing a cast reading. In the picture, you can see some of the original cast who are back for Star Wars VII - Harrison Ford (Han Solo), Carrie Fisher (Princess Leia), Peter Mayhew (Chewbacca), Anthony Daniels (C-3PO) and Mark Hamill (Luke Skywalker). And there are a lot of new cast members to get excited about too.An official statement was released along with the picture reveal, detailing who the new kids on the Star Wars block are."The Star Wars team is thrilled to announce the cast of Star Wars: Episode VII. Actors John Boyega, Daisy Ridley, Adam Driver, Oscar Isaac, Andy Serkis, Domhnall Gleeson and Max von Sydow will join the original stars of the saga, Harrison Ford, Carrie Fisher, Mark Hamill, Anthony Daniels, Peter Mayhew and Kenny Baker in the new film."Director JJ Abrams said: "We are so excited to finally share the cast of Star Wars: Episode VII. It is both thrilling and surreal to watch the beloved original cast and these brilliant new performers come together to bring this world to life, once again. We start shooting in a couple of weeks, and everyone is doing their best to make the fans proud."Previously, a few of the original cast had been seen in London, causing waves of excitement over their return to the hit franchise, which is to continue as a joint venture between Lucasfilm and Disney. As the release date is confirmed for 18 December 2015, we still have quite a way to go before we can clap eyes on Star Wars VII. As yet, the only tiny plot detail we know is that the movie is set 30 years after the events in Return Of The Jedi.However, what about the shiny new cast members who are going to be taking starring roles in the seventh movie in the Star Wars franchise? Let's take a look at the faces of those who are probably going to become overnight stars...
© AP