3 Storeys movie reviews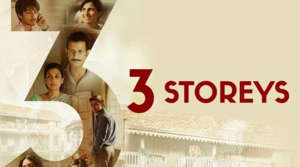 Here's what the critics are saying about 3 Storeys, starring Richa Chadda, Renuka Shahane, Pulkit Sharma, Sharman Joshi, Masumeh, Sunny Singh, Ankit Rathi, Aisha Ahmad:
3 Storeys is set in a Mumbai chawl, and the time is here and now. We see the inhabitants, who live on different floors (malas, or storeys) and they are the stories: there's your elderly busybody aunty (Shahane) who has a nicely appointed 'kholi' to sell, but is waiting for the right buyer (Sharma), but not in the way you'd think; there's the abused wife (Masumeh) of a drunken lout, who is suddenly confronted by her lost love (Joshi); there's the young Muslim lad in love with a pretty Hindu girl, unaware of the dark secret that surrounds them; and a perky voice (Chadda) who is the 'sutradhaar', the teller who knits the tale. Read the complete review here.
Helmed by first-time director Arjun Mukherjee and scripted by Althea Delmas-Kaushal, 3 Storeys is built upon a firm foundation. It has some inspired moments, all of which stem from the startling twists in the triptych of interlinked stories of 'faceless' families that live cheek-by-jowl in the same Mumbai chawl but have wildly divergent destinies. Read the complete review here.
(Video provided by Dailymotion)
Recommended: Read all the latest movie reviews