Bhaskar Oru Rascal movie reviews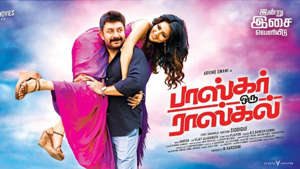 Here's what the critics are saying about Bhaskar Oru Rascal, starring Arvind Swamy, Amala Paul, Baby Nainika:
The film tries to explore the relationship two single parents have with their children. Both parents in the story have children who are on the opposite ends of the spectrum -- while Bhaskar is a 'rascal', his son is polite and docile. While Anu wants to be problem-free, her daughter wants to face it head-on. Read the complete movie review here.
It's about a businessman Bhaskar (played by Arvind Swami), who is an uneducated brawler. The hero is also a single parent, whose son is ashamed of his bad-mannered dad. He, however, is fond of his classmate Shivani's single mom Anu (Amala Paul), who is the opposite of Bhaskar on all accounts. Obviously, Shivani, on the other hand, is in awe of Arvind Swami's edginess. The kids make a pact to bring their parents together and create one happy family. Read the complete move review here.
Read all the latest movie reviews here