Chef movie reviews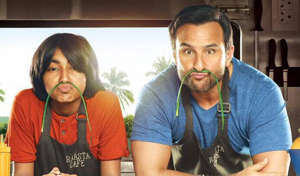 © Hindustan Times Here's what the critics are saying about Chef, starring Saif Ali Khan, Padmapriya Janakiraman, Svar Kamble, Dhanish Karthik, Chandan Roy Sanyal, Milind Soman.
This is an elegantly mounted film that stresses the importance of the human touch that makes all the difference between a truly mouth-watering meal and a passable one - a rule that be might applied equally to movie-making - while it underscores how second chances, when tapped right, can turn things around. Read the complete review here.
Considering it spends most of its running time in a leisurely canter, Chef's initial scenes are taken at a somewhat undignified gallop. Within the first 15 minutes, Roshan has punched a customer for telling him his food isn't what it used to be, landed in jail, and been fired from the New York restaurant he's head chef at. Read the complete review here.
Even if we forego the food porn expected from the remake of Chef, the characters are given little space to establish their identities and personalities. While we are told Roshan is a self-made, passionate star chef, nothing in his personality gives us a glimpse of the gravity that such a man would carry. Read the complete review here
Saif Ali Khan totally submits himself to the role, but the direction lets him down. This script is too bland to indulge in. You find yourself yawning and tempted to check out Facebook on your phone midway through the film.Read the complete review here
Recommended: Read all the latest reviews
Also watch: Chef: Special screening for Kareena Kapoor Khan (Video provided by IANS)