Daas Dev movie reviews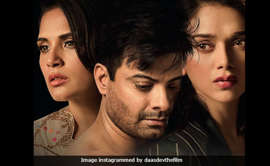 © NDTV Here's what the critics are saying about Daas Dev, starring Richa Chadha, Rahul Bhat, Aditi Rao Hydari, Vipin Sharma and Saurabh Shukla:
Dev (Rahul Bhat) is the heir to a political throne and lost his dad to an accident. He has been brought up by an uncle who received the throne upon his dad's death. Paro (Richa Chadha) is the daughter of a close aide of Dev's father and loves the heir apparent. Circumstances make Dev abandon Paro when she needed him the most. Read the complete movie review here.
The doomed love story of Devdas gets a vigorous contemporary spin – it isn't quite as downbeat as the much-filmed original – and the tragic revenge saga of Hamlet winds up in a shadowy political household where intrigue and conspiracy lurk in every shady nook. Read the complete movie review here.
Recommended: Read all the latest movie reviews here
(Video provided by Dailymotion)