Daddy movie reviews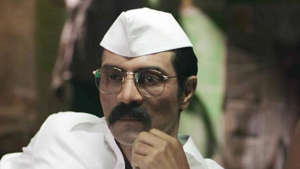 Here's what the critics are saying about Daddy, starring Arjun Rampal, Farhan Akhtar, Aishwarya Rajesh, Mir Sarwar, Anand Ingle and Nishikant Kamat:
Rampal aces his looks as Gawli and his body language is impressive in parts. In the film, Gawli is supposed to be this good-hearted man who is in "bad company". So he does not want to murder anybody but ends up counting his own friend among his first kills. Read the complete movie review here.
Arjun Rampal pulls off his role as Arun Gawli with elan. It is a refreshing change to see a role completely cut out, tailor-made for Rampal. He does not have many dialogues in Daddy, and he takes care of the anger well. The grimace on his face is befitting of Gawli. He pulls the trigger with as much skill as he delivers a speech in front of his chawl. Daddy is one of Rampal's best roles and definitely more impactful than the one he won a National Film Award for. Read the complete movie review here. 
Arjun Rampal who plays the lead character, is believable only in fits and starts. The prosthetic nose and other cosmetic changes never really fade into the face: the creation of a 'Robin Hood'-like bad guy who steals from the rich to give to the poor, a line that we hear loud and clear right in the beginning, shackles both his performance. Read the complete movie review here.
The editors piece together the saga with layered urgency. This is not an easy story to tell or for us to comprehend. There is no room here for any actor, least of all Rampal, to strut with guns and appear even remotely macho. If you are looking for a stylish take on gangsterism, look elsewhere. Read the complete movie review here. 
Recommended: Read all the latest movie reviews
Watch: Arjun holds special screening of Daddy
(Video provided by The Times Of India)