Deadpool 2 movie reviews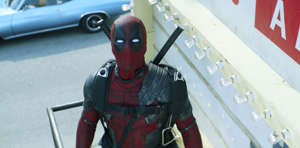 © AP This image released by Twentieth Century Fox shows Ryan Reynolds in a scene from "Deadpool 2." (Twentieth Century Fox via AP) Here's what the critics are saying Deadpool 2, starring Ryan Reynolds, Josh Brolin, Julian Dennison, Morena Baccarin, Zazie Beetz, Karan Soni:
Deadpool (Reynolds) may be a funny guy, all jokes and some wink-wink asides to the audience, and this time also a guy "trying to find his heart", but be it his rivals or friends, they have a bloody horrific time. People die gruesome deaths, one more cruel than the other in Deadpool, while others just fall or get injured in ways that the poor Lord perhaps never imagined for His world. Read the complete movie review here.
Deadpool 2 is more violent than the first movie. It's also way filthier, magnificently tone-deaf and utterly relentless in the sodden path that it has chosen to walk. I liked it better than the first film, but in the interest of absolute honesty, I must confess that I wasn't quite as taken by the first Deadpool as you lot seemed to have been. So I walked into Deadpool 2 fully prepared to feel left out, like Hawkeye in Avengers: Infinity War. Read the complete movie review here.
Recommended: Read all the latest movie reviews
(Video provided by Dailymotion)