Jab Harry Met Sejal movie reviews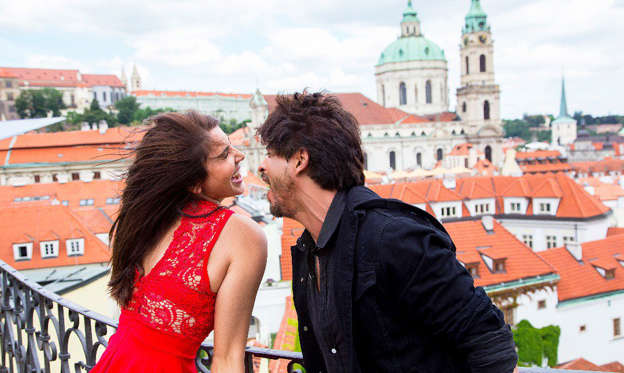 © Movietalkies
Here's what the critics are saying about Jab Harry Met Sejal, starring Shah Rukh Khan, Anushka Sharma, Evelyn Sharma, Sayani Gupta, Chandan Roy Sanyal, Paras Arora and Aru Krishansh Verma.
Jab Harry Met Sejal is supposed to be a 'journey'. Trust me, you will have gone to Europe, seen Budapest, Prague, Berlin, Lisbon, Vienna, from the Amalfi coast to the Atlantic, from the Mediterranean to the North Sea in the duration this film runs in front of you. There is nothing in Jab Harry Met Sejal that can keep your eyelids from wanting to stay shut after the first 20 minutes of the film, and most of it is courtesy the lead actors Shah Rukh Khan and Anushka Sharma. Read the complete movie review here.
Harry (Shah Rukh Khan) aka Harvinder is a travel guide in Europe. Sejal (Anushka Sharma) is in search of a lost ring. And when they meet, nothing happens very slowly. Good Gujju girl Sejal is loud and clear about her rights, and lets Harry, the dissolute, raffish rolling stone, know what's what in no uncertain terms. But there really is nothing going on between them: it's only talk, no frisson. Read the complete movie review here.
On second thoughts, it's not even a typical Imtiaz Ali film. Where is that self realisation of the characters who want to run away from the burden of love? At most, it's a stretched out meet-cute that then melds into a search for a goddamn ring. From the title to its climax, everything screams 'been there, done that.' Read the complete movie review here.
SRK's return to conventional lover boy terrain - he plays a louche but lonely tourist guide in Europe - does not yield the expected magic. Anushka, in the guise of a young, chirpy lawyer looking for a lost engagement ring, is high-spirited enough to push this plotless whimsy along for a while. In the end, the task proves too onerous for her not to be weighed down by its demands. Read the complete movie review here.