Kaalakaandi movie reviews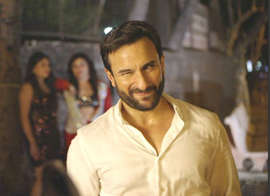 Here's what the critics are saying about Kaalakaandi, starring Saif Ali Khan, Vijay Raaz, Deepak Dobriyal, Shobhita Dhulipala, Shenaz Treasurywala, Amyra Dastur:
Led astray by alcohol, psychotropic substances, passion and the lure of money, every character in Kaalakaandi invites trouble for himself/herself and for all those whose paths they cross wittingly or unwittingly. It is an eventful plot all right, but most of the crucial reveals some via conversations that occur principally inside three moving cars, each denoting an aspect of the city of Mumbai. Read the complete movie review here.
Kaalakaandi has three parallel tracks that show us the different worlds that reside in Mumbai. The movie opens with Saif, an unnamed executive, who finds out he is suffering from cancer and has mere three months to live. His doctor has a special way of delivering the news: "You do not have ulcers, therefore you also do not have perforated ulcers and you can stop your medication. You have cancer, stomach cancer." Read the complete movie review here.
If you are Saif Ali Khan's buttoned-down character in Kalaakaandi, you gulp down something small and red, and get slung out into the night. A clean-cut fellow unraveling in messy ways is a great, if familiar, hook. Akhsat Verma's directorial debut (he wrote 'Delhi Belly') is very much of the it-happened-one-night format, where all kinds of people are on the move, and stuff happens. Is it fun? It is, in bits and pieces. Do you stay with it? Again, intermittently. Read the complete movie review here.
(Video provided by Dailymotion)