Mersal movie reviews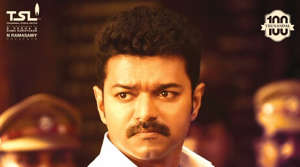 Here's what the critics are saying about Mersal, starring Vijay, Samantha Ruth Prabhu, Kajal Aggarwal, Nithya Menen, S. J. Surya, Vadivelu and Sathyaraj.
Everyone knew that in Mersal, Vijay has played three different roles. So, it was clearly, not the jaw-dropping twist that Atlee would have imagined while writing the film. But, still, the scene created fireworks in the theater as the fans jumped up to their feet, whistling and screaming on top of their lungs. Coming together of two brothers was not the unexpected surprise but a much-awaited moment in the film. Read the complete movie review here.
Mersal, that runs close to three hours, takes a long time to establish its characters and the plot. About a half an hour or so, we learn that Maaran (Vijay) is not just a doctor, but a five-rupee-fee doctor who wants to serve the people. We also learn that Maaran is also an illusionist (not a magician, there's a difference), whose tricks might raise your eyebrows quite often. At the same time, Maaran butchers a big-shot doctor somewhere in Paris. Read the complete movie review here.
Mersal begins with the kidnap of a few people and the common link between them is that they are associated with health industry. A cop named Rathnavel (Sathyaraj) arrests Dr Maaran (Vijay) in connection with the case which paves way for a flashback. Read the complete movie review here.
Recommended: Read all the latest movie reviews