Movie reviews: Bioscopewala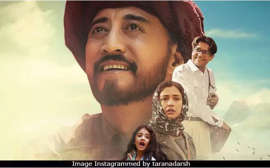 Here's what the critics have said about the movie featuring actors Danny Denzogpa, Geetanjali Thapa and Tisca Chopra in pivotal roles.
In Tagore's original story, an Afghan man selling dry fruits in Kolkata forms a bond with a young girl because she reminds him of his daughter. Deb adds layers to the story as he swaps the dry fruits for a bioscope and fills his Kabuliwala with undying passion for rebellion, cinema and story-telling. Read the complete film review here.

Rehmat Khan, an Afghan refugee in Kolkata (Danny) strikes up a warm relationship with little Minnie ( Thapa), who grows up, and moves away, as people do. A tragic event brings Minnie back to her childhood home, and the memories she had left behind; Rehmat and his beloved bioscope appears as a hazy dream; gets concrete form in the letters written by her father ( Hussain). They hint at a far deeper connection between him and Rehmat, and Minnie is left, uneasily, to unravel the mystery. Read the full review here.
The passage of time may dim the glow of moving images just as it can reduce the intensity of human feelings, but do they ever vanish altogether? In Medhekar's take on Tagore's timeless classic, they certainly do not; if anything, they assume new depth and urgency. Like the hand impressions of two five-year-old girls imprinted on a piece of cloth keep the titular protagonist from disintegrating in the face of a series of misfortunes, memories of life-affirming connections of yore help a grieving girl surmount the untimely loss of her father. Read the complete review here.

As much as it is a story about the father-daughter bond, Bioscopewala is a film that reminds viewers of mankind's cherished gift – its ability to create new memories to resurrect itself from loss and grief. They make you laugh and cry. And in co-producer Sunil Doshi's story, they are reason for our existence itself. Read the entire verdict here.
Don't miss the trailer