Movie Reviews: Omerta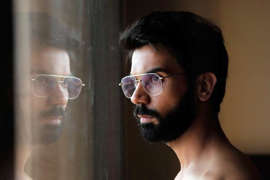 Here's what the critics are saying about Omerta, starring Rajkummar Rao, Rajesh Tailang, Rupinder Nagra, Keval Arora, Timothy Ryan Hickernell, Kallirroi Tziafeta and Harmeet Singh Sawhney:
Driven by hate, prejudice and a sense of victimhood, Omar is on a mission to avenge the wrongs done to his "brothers and sisters" in Bosnia, Palestine and Kashmir. Lead actor Rajkummar Rao, in his fourth collaboration with Mehta, gives the film its teeth with a pitch-perfect performance. He slips into the skin of Omar with chilling conviction. Read the complete review here.
The biggest challenge while making a film on a negative character is to not get vacuumed into the criminal mind. The danger of justifying criminal acts while trying to make sense of them is always there. Omerta does not fall into the trap - mainly because Mehta and Rao conscious decision not to do so, but also because the film fails to go beyond the three major incidents in Omar's life. Read the complete review here.
Rao tries his best, but the strain of being the only person who matters in the film, with an English accent that slips, soars, slides, strains and, sometimes, simply gives up, doesn't help. The foreigners hired to play the bit roles of Omar's abductees, with the exception of Allan as Pearl (marginally better), are embarrassing. Read the complete review here.
Mehta's frequent juggling of timeline and location means the jag and jump of the filmic technique matches the fragmented nature of the narrative. The chaos is needed, for though there's some shock in Omerta, there's little surprise. Read the complete review here.
Recommended: Read all the latest reviews here.
Watch the trailer here:
Also watch: Omerta movie review
(Video by Dailymotion)
Don't miss: Stars attend Omerta screening
(Slideshow by The Indian Express)