Mukkabaaz movie reviews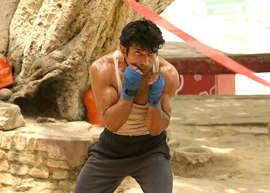 Here's what the critics are saying about Mukkabaaz, starring Vineet Kumar Singh, Rajesh Tailang, Jimmy Shergill, Shreedhar Dubey, Zoya Hussain:
Mukkabaaz, based on a true story, is a robust, raucous, rollicking ride through the muck of casteism, corruption and callousness. It defies expectations on many counts and eschews the shrill jingoism that is associated with Indian sports films. The protagonist isn't fighting under a flag nor are the people rooting for him motivated by national pride. He is in the game merely for survival - and love. His only intent is to work his way out of the misfortunes that his birth and station in life have heaped on him. Read the complete movie review here.
Kashyap's ability to name names is important, especially now when Bollywood is being shoved back into la la land. Naming and shaming in today's India is a badge of honor, and being able to place the elephant in the room is a win, straight-up. In that sense, Mukkabaaz is neither an Indian version of Rocky nor Raging Bull, which can quite easily be called 'boxing movies'. Mukkabaaz is its own film. Read the complete movie review here.
(Video provided by Lehren)
Recommended: Read all the latest movie reviews here