Nanu Ki Jaanu movie reviews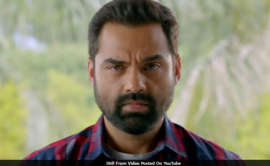 © NDTV Here's what the critics are saying about Nanu Ki Jaanu starring Abhay Deol, Patralekhaa, Rajesh Sharma and Himani Shivpuri:
Abhay Deol, in his first big-screen outing since 2016's Happy Bhag Jayegi, looks downright unhappy as he carries the burden of this massive mess of a movie on his shoulders. It's an ungainly sight: the actor tries very hard to hold on to his sanity, but that is a tough ask in a film where the actors do not stand a ghost of a chance of rising above the wild and wobbly script. Read the complete movie review here.
This film is clearly aiming for an Oye Lucky Lucky Oye vibe, with its pairing of Deol and Rishi as cons, liberal usage of slang, and characters trying hard to be quirky. But within a few minutes, it's equally clear that we've been conned: Nanu Ki Jaanu is so all-out scatter-brained and lame, that we are left wincing rather than laughing. Read the complete movie review here.
Recommended: Read all the latest movie reviews