Ocean 8 movie reviews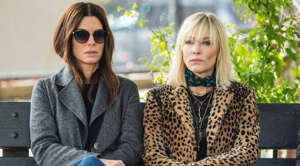 Here's what the critics are saying about Ocean 8, starring Sandra Bullock, Cate Blanchett, Anne Hathaway, Helena Bonham Carter, Rihanna, Sarah Paulson, Mindy Kaling, Awkwafina:
Bullock reprises the role of George Clooney from the Ocean's series as Danny Ocean's sister Debra, who has just got out of prison and is planning a heist involving that $150 million diamond necklace, which has not been brought out in public in 50 years. Read the complete movie review here.
Hathaway's over-the-top performance is perfectly suited for her role of an egotistical diva as she cracks fake smiles at galas, swoons over jewels, screams and cries at a dress that won't fit and plays men for fools. She is perhaps the only reason you might want to put away your phones while you sit through this snooze-fest. Read the complete movie review here.
Recommended: Read all the latest movie reviews here