Officer movie reviews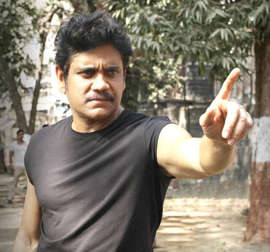 © Filmysouth Here's what the critics are saying about Officer, starring Nagarjuna, Myra Sareen, Feroz Abbasi:
Of the many things, one heard about Officer, the speculation that this was based on Hollywood film Taken was rampant after the song Navve Navvu was released featuring Shivaji and his daughter. RGV has, however, gone the commercial route and only used the daughter as a pawn to get the story to move forward. Read the complete movie review here.
Narayan Pasari, a senior police official in Mumbai, is charged with committing an illegal encounter. Shivaji Rao (played by Nagarjuna) is transferred from Hyderabad to Mumbai to investigate the case. Upon investigation, Shivaji and his team realise that Pasari is not just the top cop who brought down the mafia in Mumbai. There is a negative shade to him as well. Read the complete movie review here.
Mumbai's decorated and most powerful police officer Narayan Pasari is a legend of sorts among the police as he is said to have wiped out the underworld from the face of Mumbai. But, there is more to this top cop. He is a criminal by nature, who abuses the office that he has sworn to protect. Read the complete movie review here.
Recommended: Read all the latest movie reviews here