Qarib Qarib Singlle movie reviews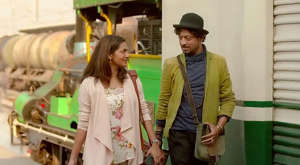 © Movietalkies Here's what the critics are saying about Qarib Qarib Singlle, starring Irrfan Khan, Parvathy, Neha Dhupia, Isha Sharvani and Brijendra Kala:
It's a road movie-cum-coming-of-age-romance, with a bittersweet tang to it, and yet it is peppy, and fun and fresh: two adults, a man and a woman, connect via a dating site, and find that online, can, sometimes, translate into something vital and real offline. Read the complete movie review here.
The screenplay (by Tanuja Chandra and Gazal Dhaliwal, also the dialogue writer) is neither whippy nor trippy. If you are looking for a dizzying ride, it does not offer one. Qarib Qarib Singlle hinges on a whimsical, occasionally witty but always sedate construct. It does not hustle the two central characters into set-piece situations designed to place their innermost thoughts under the glare of a flash-torch or serve to fulfil standard audience expectations. Read the complete movie review here.
Recommended: Read all the latest movie reviews
(Video provided by NDTV)