Shaadi Mein Zaroor Aana movie reviews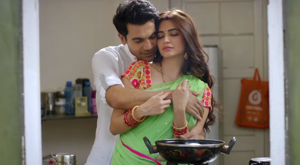 © Movietalkies Here's what the critics are saying about Shaadi Mein Zaroor Aana, starring Rajkummar Rao, Kriti Kharbanda, Nayani Dixit, Manoj Pahwa, K K Raina, Vipin Sharma and Govind Namdev:
The plot looks straight out of the 80s, with its implausible 'revenge' theme, the characters who look 'seedha' but are totally 'ulta', and a leading lady who is presented as a modern, thinking girl, but is given very little agency or a mind of her own. Her one big desire is that she wants to work after marriage. Satyendra aka Sattu's response, smitten as he is with her pretty-in-pinkness self, is instant acquiescence. Read the complete movie review here.
Shaadi Mein Zaroor Aana is a massive, uncontrollable cinematic blob that runs its tiresome two-and-a-half-hour course without ever getting its perspectives in order. That is a shame because the film starts off on a rather promising note and stays on course for roughly the first 30 minutes - this phase is devoted to an about-to-be-married couple's awkward courtship. And then the dowry blow is delivered. It is all downhill from here on. Read the complete review here.
Recommended: Read all the latest movie reviews
(Also watch: Special screening of the film)
Video provided by Lehren