Shab movie reviews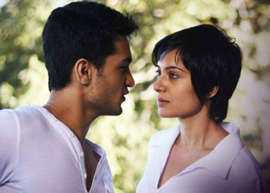 © Provided by NDTV 24x7 shab embed 2 facebook Here's what critics are saying about Shab, starring Raveena Tandon, Ashish Bisht, Simon Frenay, Arpita Pal and Gaurav Nanda:
To tell this story of brittle and scarred souls and their assumed identities, director and co-screenwriter Onir employs a staccato narrative rhythm marked by maturity and unwavering confidence in the audience's ability to pick up barely spelt out signals and pointers. Read the complete movie review here.
Onir's expertise is seen in the way he handles these characters and their stories - his sensible filmmaking is written all over the frames. Even when showing stereotypical mindsets in our society, he makes it a point to balance out the narrow-minded comments by placing sane-minded characters nearby, giving them at least one or two jibes to throw at the prejudiced characters. Read the complete movie review here.
(Video provided by Lehren)
Recommended: Read all the latest movie reviews