Thugs of Hindostan movie reviews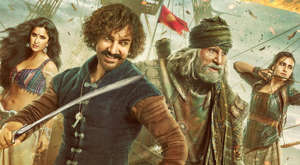 Here's what the critics are saying about Thugs of Hindostan, starring Amitabh Bachchan, Aamir Khan, Katrina Kaif and Fatima Sana Shaikh:
The Indian Express
The film opens in 1795, with a father and a daughter building a sand-castle. Instantly you know where this is leading to. Sandcastles are equal to fragile structures which are washed away. Ergo, the castle the duo lives in is in danger. They are the victims and the aggressors are the British. Read the complete movie review here.
Also watch: Aamir Khan talks about his fear
(Video provided by IANS)
Thugs of Hindostan concentrates so much on its fight sequences that any scene without combat seems to stretch on till the end of time. You forget the dialogues before the actors are able to finish saying them. Amitabh Bachchan and Aamir Khan try their best to steer the film forward but do not succeed beyond the intermission. Read the complete movie review here.
NDTV

A gravelly-voiced Amitabh Bachchan and a puckish Aamir Khan bring everything that they have - the combined weight of the two superstars is undeniably significant - to the table, but director Vijay Krishna Acharya's screenplay and the film's big-budget surface veneer lack the solidity to guide this overwrought vessel out of the deep waters. Read the complete movie review here.
Read all the latest movie reviews here
Recommended: 25 iconic Bollywood films of all time