Toilet - Ek Prem Katha movie reviews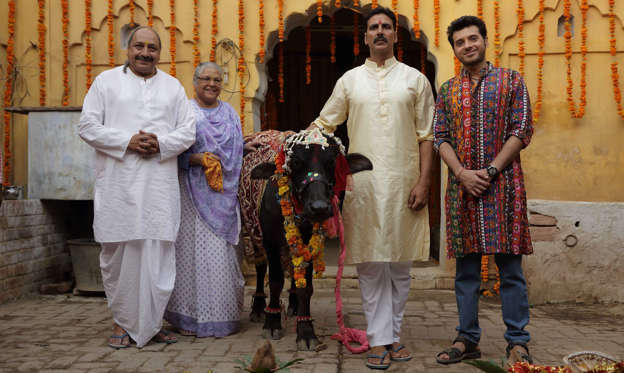 © Movietalkies
Here's what the critics are saying about Toilet - Ek Prem Katha, starring Akshay Kumar, Bhumi Pednekar, Sana Khan, Anupam Kher, Divyendu Sharma, Sudhir Pandey, Rajesh Sharma and Shubha Khote:
It's fitting that Akshay Kumar has greenlit and played the lead in this film, which is more a primer of How To Break Social Taboos and Make Toilets rather than a powerful social drama. The moment a film succumbs to being the carrier of a Message as opposed to a message, it becomes burdened. Read the complete review here.
Throughout the lengthy film, the director maintains a kinetic momentum. He has his character's feelings on his fingertips. He digs into the high-points in the drama with the disarmed delight of a kid scooping into a bowl of icecream. Read the complete review here.
What initially begins as a son versus father ideological tussle escalates into a full-fledged war involving the state. We get to know that it's a scam, but the current government is quite serious in tackling it. Meanwhile Akshay Kumar undergoes a transformation from someone who advises his wife to adjust a bit because it's been happening for ages to the champion of women's rights. Read the complete movie review here.
Since Baby (2015), Akshay Kumar has not let the patriot in him take a backseat. In Toilet: Ek Prem Katha, too, he launches into lofty monologues about the menace of open defecation, especially its impact on women. He singlehandedly fights against the "sabhyata" and "sanskriti" squad and vows to get a toilet installed in the village. Read the complete movie review here.
Toilet: Ek Prem Katha is about a man compelled by his bride to think of building a pucca latrine in the village. In his conservative neck of the woods, he must move heaven and earth to achieve his goal. The film follows him as he negotiates a series of obstacles, most of them stemming from the obscurantist ways of the village. Read the complete review here.
The first half of the film is crisp and tightly packed but the same can't be said about the other half. After interval, the film tends to get a bit preachy but that is expected if you have a much-debatable topic like open defecation to be addressed. It might feel a bit predictable but it is not something you can't sit through. Read the complete review here.
(Video provided by NDTV)
Recommended: Read all the latest movie reviews