Dhanush Wins Case Against Couple Claiming To Be His Parents

NDTV
21-04-2017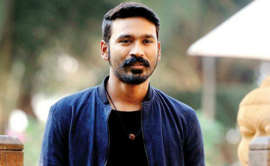 New Delhi: Actor Dhanush has won the case against a couple who claimed to be his parents and sought maintenance from Rajinikanth's son-in-law. The Madras High Court quashes the petition demanding maintenance from the actor.
The couple, Kathiresan and Meenakshi, had claimed that Dhanush was their son who ran away from a hostel when he was in Class 11 and wanted him to pay a monthly maintenance of Rs 65,000. They had produced a class 10 certificate to back up their case, which included the identification marks.
The actor's lawyers, however, say this is an attempt to extract money from him.
On February 28, the Madurai bench of the high court had ordered the Madurai Medical College to ascertain if the actor had these two identification marks. The doctors were also asked if the mole and the scar could be erased without a trace.
According to the medical report, the doctors could not find the identification marks mentioned in the certificate produced by the couple. The doctors have also explained that it is possible to remove superficial moles using laser technology but scars can't be removed though there can be reduction in scars.