Happy birthday Mahesh Babu: Films that made him the most wanted star down south

The Indian Express
09-08-2018
Telugu superstar Mahesh Babu turns 43 today. If you draw up a list of the top 10 most bankable stars of the south today, the list will be incomplete without Mahesh on it. On his birthday, we pick films that contributed considerably towards establishing Mahesh Babu's career.

Okkadu (2003): It is a landmark film in Mahesh's career. The film follows the heroic exploits of a Kabbadi player, who fights a ruthless antagonist from a powerful family while trying to save a damsel in distress. The film set the box office on fire and lured filmmakers from other industries to remake it. It put Mahesh on the path of superstardom.
Athadu (2005): Written and directed by Trivikram Srinivas, the film had a visibly calm and harmless looking protagonist, with a history of coldblooded, high-profile killings. The film created a successful and distinctive template for Mahesh to exploit his onscreen heroism to the hilt in his future films. He started playing more stoic characters and began redefining his onscreen image.
Pokiri (2006): It was another film that had all the ingredients to become a blockbuster. Mahesh played a super cop, who disguised himself as an up-and-coming gangster as part of a police operation. The film directed by Puri Jagannadh became the highest grossing film in Telugu that year. It also inspired remake in other languages. It's worth noting Bollywood superstar Salman Khan, who was going through a rough patch, found his mojo after reprising Mahesh's role in the Hindi remake Wanted.
Khaleja (2010): This time Trivikram Srinivas did something different with Mahesh. He wrote the hero's character as innately funny, comical, witty while delivering heroism in liberal doses. The premise of the story tackled the concept of God. Mahesh plays a happy-go-lucky taxi driver, who doesn't hesitate to kill those who hurt him. It is one of Mahesh's most entertaining roles.
Srimanthudu (2015): Srimanthudu, with a social message about giving back to society, is another milestone film in Mahesh's career. The film, which was written and directed by Kortala Siva, saw the actor play a wealthy man, who takes upon himself to rebuild his ancestral village that lacks the basic amenities. It is among the highest grossing Telugu films of all time globally and even encouraged celebrities, bureaucrats, and politicians to adopt backward villages.
Also watch: Mahesh Babu and Namrata Shirodkar's kissing picture goes viral
(Video by Dailymotion)
In pics: Guess these celeb couples' age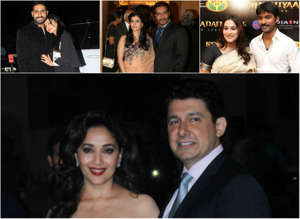 More from The Indian Express Entertainment

The Indian Express