Important to love, respect your body: Anushka Shetty

IANS
24-11-2015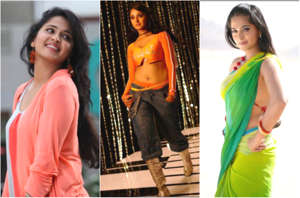 Chennai: Actress Anushka Shetty, who plays an obese character in her forthcoming Tamil-Telugu bilingual 'Size Zero', believes that when you love and respect your body, you will be able to crack the secret to staying fit.
"Fitness, in my opinion, is a mental exercise more than just physical," Anushka told IANS, adding that a lot of people don't appreciate how they look and hate themselves.
"This kind of mentality pushes them to go on a crash diet or extreme workout, which is not advisable. It's important that you love and respect your body, understand what it needs and accordingly give everything in appropriate proportion," she said.
The film, which releases worldwide in cinemas on Friday, is directed by Prakash Kovelamudi and also features Arya, Sonal Chauhan and Adivi Sesh in important roles.
Emphasizing on the subtle, but important message the film delivers, Anushka said: "It's a story that will instantly connect with a majority of Indian women who are always insecure about how they look. It will guide them in the right direction".
Anushka also reiterates that the film is not just for women and has nothing against men.
"This story, the way it's written and presented, has something for everybody. Arya's interesting role will make men understand how important their contribution is in the lives of their partners. Men also deal with weight issues and this film can equally inspire them," she said.
For her role, Anushka gained nearly 20 kg, and she's still in the process of shedding it. She also clarified that she's not undergoing medical surgery to lose weight.
"I'm still required to lose about seven to eight kg before I join the sets of 'Baahubali 2'. We could've prosthetically added all the required weight, but since we wanted it look very natural, I decided to gain weight without the aid of technology and make-up," she said, adding the process was really tough and had its set of challenges.
"At one point, my legs hurt a lot as they couldn't bear the extra weight. But as actors we can't complain and take everything in our stride," said the 34-year old, who has had a great run at the box office this year.
Her two releases 'Baahubali' and 'Rudhramadevi' - in 2015 have turned out to be hits.
"I just hope the success continues with 'Size Zero' as well. It's a wonderful film and for all the hard work we've put in, we really want it to do well. Most importantly, we hope it changes the lives of people with weight issues," she said.
"I hope it becomes three hits in a row," she added.
Anushka is gung-ho about S.S.Rajamouli's 'Baahubali 2', which is expected to hit the screens next year.
"People kept asking why I ended up doing such a small and insignificant role in the first part. Well, I have got to tell them wait till you watch the second part. Rajamouli sir has reserved the best part for me and I'm honoured to be part of this franchise," she signed off. (Bollywood Country Report)