Mersal music launch: Vijay asks fans to ignore negativity, says life won't be interesting if everyone liked him

The Indian Express
21-08-2017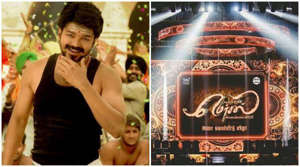 Vijay spoke at the music launch of his 61st movie Mersal which is directed by Atlee. The magnum opus has music by AR Rahman and also stars Kajal Aggarwal, Samantha Ruth Prabhu and Nithya Menen. Vijay requested his fans to ignore negativity and thanked them for their support throughout the years, at the extravagant launch of Mersal's music album at Nehru Indoor stadium in Chennai.
Actor Vijay was greeted with a thunderous applause as he took the stage and had to wait several minutes before he could start speaking. "I have seen hits, blockbusters and flops, but above all that I am proud that I have earned your love and support," said Vijay, as the resounding cheers echoed relentlessly.
Vijay requested his fans to ignore negativity and focus on their duties. "Please don't think I am advising you -- I am not that wise. Many have asked me how I have handled negativity. My answer is simple. I ignore them. It will subside after a while," remarked the actor.
"Life wouldn't be interesting if everyone liked us, would it?" Vijay asked to a roaring crowd which brought the house down with their cheers. The actor had recently issued a statement against trolling after a senior women journalist was abused on Twitter by Vijay's fans following her negative comment about his movie, Sura. Director Parthiban had also earlier appreciated the actor talking a stand quickly as the issue escalated.
Living up to his image onscreen, Vijay was truly in his elements, full of punch lines that could easily be part of any commercial film. Talking about the man of the moment AR Rahman, he said, "Mettu pottu ulagathaye Mersal akinavaru, ipo Mersal ku mettu pottrukaru (The man who had dazzled the world with his tunes has now composed music for this stunner)".
From the music launch :) #Mersal pic.twitter.com/dqeIAPQakr
— Kajal Aggarwal (@MsKajalAggarwal) August 20, 2017
The actor further said, "Only two things decide one's life -- your determination when you have nothing and your attitude when you have everything".
In an another applause-worthy moment, Vijay summed up Mersal in another quote that oozes the mass factor "Thuppaki na gundu irukanum; Kathi na sharp ah irukanum; Theri na thimira irukanum; Mersal na mass a irukanum (A gun should have a bullet. A knife has to be sharp. Theri should be with attitude. Mersal should be mass)".
In an ode to the actor completing 25 years as a hero in the industry, a video with SA Chandrasekhar's first request to the audience, to welcome Vijay in his debut movie was aired. The mass factor was seen even outside the venue, as the roads were adorned with banners that christened Vijay as 'Veera Tamizhane (The brave Tamilian), Nalaiya Theerpe (The verdict of tomorrow) etc.
Also at the lavish event, director Atlee announced that the teaser of the movie will be released in two weeks. The star-studded affair also commemorated Rahman's 25 years in film music. The maestro performed the two unreleased songs at the event and received a standing ovation from the audience. "It feels like the first year. We are now seeing a new generation of listeners. Seeing you all makes me feel young. This album is for the new generation," he said.