Sri Reddy claims Rana Daggubati's brother Abhiram 'used' her, leaks pics

Hindustan Times
11-04-2018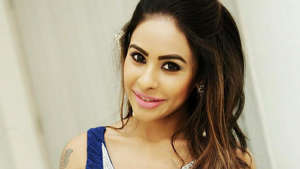 Actor Sri Reddy, who had on Saturday protested against casting couch by stripping in front of the Movie Artistes Association office, alleged that producer Suresh Babu's son had sexually exploited her. In an interview with News 18, the actor claimed, "Suresh Babu's son cheated me so badly. The studio belongs to the government and it is meant to help and support talented people. They have to use it in a proper way. This Suresh Babu's son took me to the studio and f****d me so badly in the studio only."
Suresh Babu is the father of Rana and Abhiram Daggubati. While Sri Reddy initially did not reveal who she was accusing, just hours later she appeared on a Telugu news show and alleged that it was Abhiram who had exploited her. It was in this interview that intimate pictures of Abhiram and herself were flashed.
Whoever leaked these, wait for my turn for #SriReddyLeaks Coming Soon.. I won't forgive you people this time !!!!!!! #SriReddy#SriLeakspic.twitter.com/W8C0ZsJnly

— Sri Reddy (@srireddyleaks) April 11, 2018
At the show, she said, "This is Suresh Babu's son Abhiram and I haven't revealed his name anywhere so far. Abhiram! Don't you feel ashamed? You know how you behaved in the studio. Everyone asked for proof, so here is the proof. See this photo, which clearly shows him kissing my face. Now start a rally. Let all Dalit and women associations come forward, fight and give me justice. Because of men like this, many lives are being ruined."
పేర్లు చెప్పండి పేర్లు చెప్పండి అని కామెంట్స్ చేసారు కదా, దగ్గుపాటి సురేష్ బాబు కొడుకు అభిరామ్, వీడు ఒక అమ్మాయిలనే కాదు Sona అనే Transgender ని కూడా వదల్లేదు అంత కామాంధుడు మన అభిరామ్, ఇటువంటి వెదవలు ఇంకా ఉన్నారు అందరి పేర్లు బయటపెడతా #srireddy#Srileaks#srireddyleakspic.twitter.com/y3XPX0TCx2

— Sri Reddy (@MsSriReddy) April 10, 2018
Since the show was aired, the pictures have surfaced on social media as well and have since gone viral.
Sri Reddy had earlier claimed that many producers, directors and actors had asked her for sexual favours, and even upon having submitted to such requests she did not get an opportunity.
After her protest, MAA decided to ban Sri Reddy for her actions. MAA members called a press meet on Sunday in Hyderabad where actor Meka Srikanth said, "She has appeared on several TV channels and commented a lot on Twitter and Facebook. Her act has come as a rude shock to many younger-generation stars in the film industry and created a fear among them."
Also watch: Rana Daggubati turns 'Thanos' joins 'Avengers'
(Video by IANS)